Ho Chi Minh City: first shots basically completed, new infections down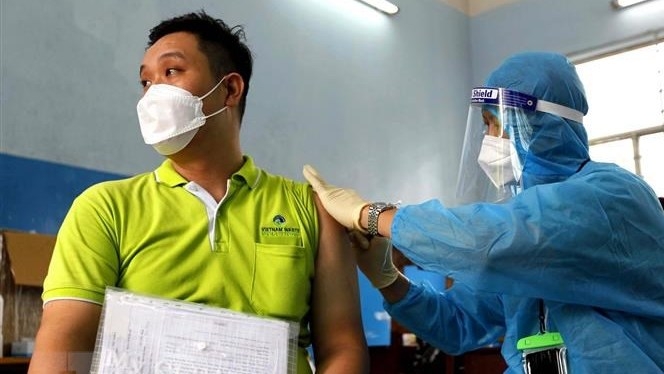 A Ho Chi Minh City resident is vaccinated against COVID-19. (Photo: VNA)   
NDO/VNA - Ho Chi Minh City has basically completed giving the first shots of COVID-19 vaccines to those aged above 18 while new infections are on the decrease, the municipal Steering Committee on COVID-19 Prevention and Control told a press conference on September 16.
Deputy Director of the municipal Centre for Disease Control and Prevention Nguyen Hong Tam said as of September 15, the city gave 8,452,609 vaccine shots, including 6,667,018 first and 1,785,591 second shots. As many as 969,451 people aged above 65 and having underlying diseases were vaccinated.
Deputy Director of the municipal Health Department Nguyen Hoai Nam said the city is seeking approval from the Health Ministry to reduce the time between two AstraZeneca COVID-19 shots from the usual eight to 12 weeks down to six weeks to speed up immunisation.
According to him, the city has been conducting large-scale testing, which is the reason why the number of COVID-19 cases recorded in recent days remain high, fluctuating at between 4,000 - 6,000 a day. However, the rate of infections among tests has dropped remarkably, from 3.6 percent during the first testing drive in high-risk areas (classified as red and orange areas) from August 23-27 to 2.7 percent in the second drive and 1.1 percent in the third drive.
Nam said mass testing will continue with at least twice or thrice more to discover all infections in the community.
From 0am on September 16, the city adjusted several social distancing measures depending on areas till September 30, allowing shippers to deliver goods across districts but they must test for COVID-19 every two days and follow prevention and control measures.
Sen. Lieut. Col Le Manh Ha from the municipal Department of Public Security said travel permits have also been issued to qualified residents.
Deputy Director of the municipal Department of Industry and Trade Nguyen Nguyen Phuong said about 30,000 shippers in the city had received one vaccine shot. The number of registered shippers could increase in the near future, making it easier for residents to place orders.
TAG: