Vietnam and France enjoy fruitful relations: Ambassador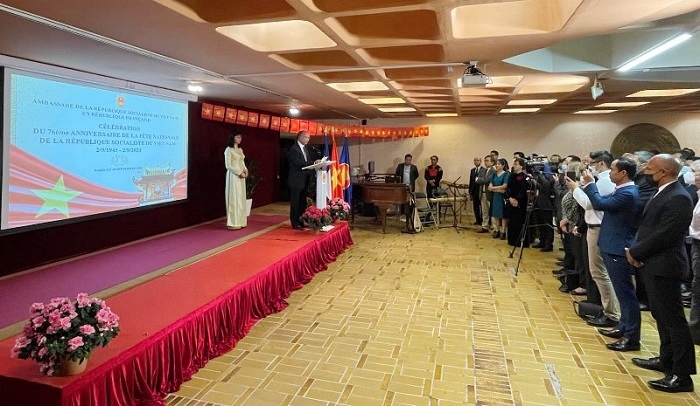 Overview of the event.   
NDO – Vietnam has achieved many significant achievements over the past seven decades, and the country's friendship and cooperation with France have witnessed fruitful developments.
Vietnamese Ambassador to France Dinh Toan Thang made the affirmation at a banquet held by the Vietnamese Embassy in France on September 15 to celebrate the 76th anniversary of Vietnam's National Day (September 2, 1945-2021).
He said that Vietnam has gained progress in many fields, while constantly consolidating its friendship and close cooperation with partners around the world, making the country an active member of many cooperation agreements and organisations in the region and around the world.
Vietnam successfully accomplished its role as ASEAN Chair 2020 and is fulfilling the duties of a non-permanent member of the United Nations Security Council for the 2020-2021 term, he stressed.
Regarding Vietnam - France relations, the diplomat emphasised that the two countries have developed a strategic partnership with effective progresses. The two nations will celebrate the 50th anniversary of their diplomatic relationship and 10th year of their strategic partnership in 2023.
He took the occasion to convey his thanks and appreciation for the valuable and timely support of the French government and people by providing Vietnam with COVID-19 vaccine.
For his part, President of the France-Vietnam Friendship Association Gerard Daviot said that Vietnam's National Day is an event of significance for him as it reminds him of the historic moment when President Ho Chi Minh read the Declaration of Independence on September 2, 1945, giving birth to the Democratic Republic of Vietnam.
He asserted that he always supports Vietnam's national construction and considers the country as his second home.
TAG: