Programme to support children in online learning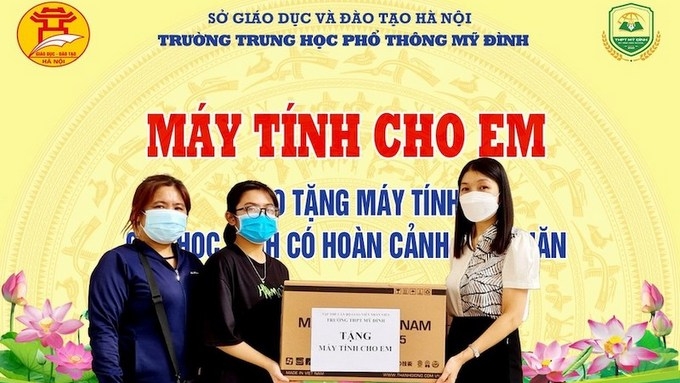 A student in My Dinh High School in Nam Tu Liem District, Hanoi receive a computer. (Photo: NDO)   
NDO – The Ministry of Education and Training and National Education Union of Vietnam on September 10 issued a document to launch a programme mobilising donations to support children who are living in difficulty around the country in terms of their online learning.
According to the the Ministry of Education and Training, due to the complicated development of COVID-19 pandemic, millions of students cannot go to school. Therefore, teaching and learning via online form is necessary and inevitable.
However, many families do not have ability to equip themselves with the essential equipment for online learning such as computers, tablets and televisions, so millions of students do not have the opportunity to study.
Under the programme, organisations and individuals were called upon to give donations, including money and devices for online learning, to provide students who are living in difficult circumstances with the means of learning.
The Ministry of Education and Training and the Vietnam Education Union requested the heads of the units promptly propagate and mobilise their cadres, civil servants and employees to actively respond to the programme.
* In response to the call by the Ministry of Education and Training, Hanoi's educational sector continued to call on individuals and units in the city to give assistance to poor students to meet their online learning requirements.
TAG: