Nhan Dan Newspaper presents masks to Portuguese friends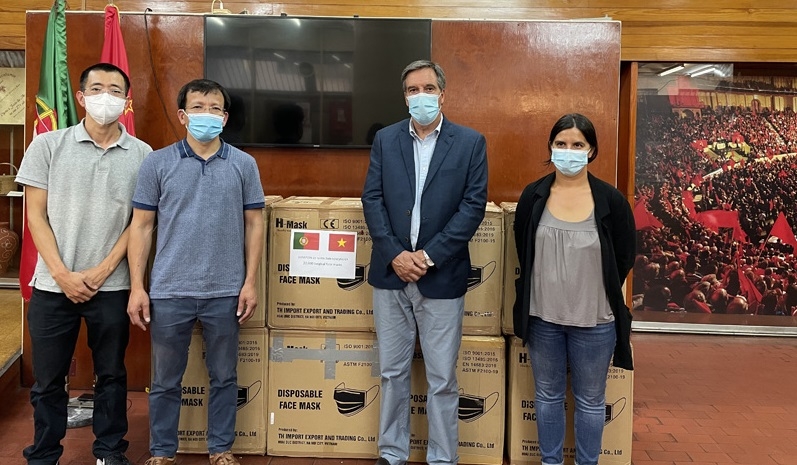 Secretary of the Central Committee of the Communist Party of Portugal Jose Capucho (second from right) expresses his delight at Nhan Dan Newspaper's participation at Avante Press Festival, and considers its support of medical masks as a great source of encouragement. (Photo: NDO/Dinh Tuan-Khai Hoan)   
NDO – Under the authorisation of the Editorial Board of Nhan Dan Newspaper, the newspaper's representative office in France has presented 20,000 medical masks to support Portuguese friends in the fight against COVID-19.
The handover was made on September 2 when Nhan Dan Newspaper's representatives were attending the 2021 Avante Press Festival, the most important festival of the year for communists and working people in Portugal.
According to Secretary of the Central Committee of the Communist Party of Portugal Jose Capucho, the vaccination rate of two doses in Portugal has reached more than 70%. However, the number of new daily infections is still very high compared to the period from March to June 2021.
Currently, the Delta variant is still spreading strongly in Portugal and other European countries. Many anti-epidemic measures continue to be maintained such as mandatory wearing of masks in crowded places.
He expressed his delight at Nhan Dan Newspaper's participation at Avante Press Festival, and considered its support of medical masks as a great source of encouragement.
The Communist Party of Portugal has strongly supported Vietnam's goal of moving up to socialism on the basis of Marxism-Leninism and Ho Chi Minh Thought, Secretary Jose Capucho said, adding that the theory and practice of Vietnam over the past decades are concrete examples of Vietnam's right-oriented development path under the leadership of the Communist Party of Vietnam.
He also noted that Vietnam's spirit of solidarity and responsibility is always promoted in challenging times and Vietnam is always ready to share and support international friends in responding to the epidemic while other countries are also ready to share medical equipment and vaccines with Vietnam.
TAG: