Vietnam looks to train, retrain skills to adapt to 4IR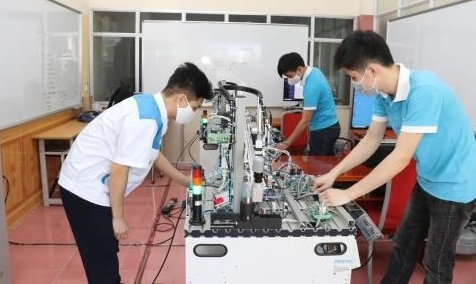 Illustrative image (Photo: baochinhphu.vn)   
NDO/VNA – Deputy Prime Minister Vu Duc Dam has signed a decision approving a programme on training and retraining skills of human resources to meet requirements of the fourth Industrial Revolution.
The programme aims at training new occupations and new vocational skills for at least 20 professions and occupations at the college and intermediate educational level, with priority given to information technology, new technology, high technology and future skills that meet the requirements of the fourth Industrial Revolution.
The minimum number of trainees in each industry or occupation is 120, and the total number of trainees participating in the programme is about 4,800.
It also aims to retrain to improve knowledge and skills associated with job change for at least 300,000 workers affected by the fourth Industrial Revolution with the training time of under one year, and identify new industries, training occupations, vocational skills and training models to adapt to the revolution.
Its tasks and solutions are to assess and identify training and retraining needs, develop training and retraining programmes, improve the capacity of teachers and managers of vocational education institutions and teachers in enterprises, and select vocational education institutions and enterprises to order training and retraining.
TAG: