PM Chinh Inspects COVID 19 Prevention Measures in HCM City Hotspot
Prime Minister Pham Minh Chinh made a fact-finding trip to Ho Chi Minh City on August 26 in order to inspect the implementation of COVID-19 prevention measures in the nation's largest COVID-19 hotspot.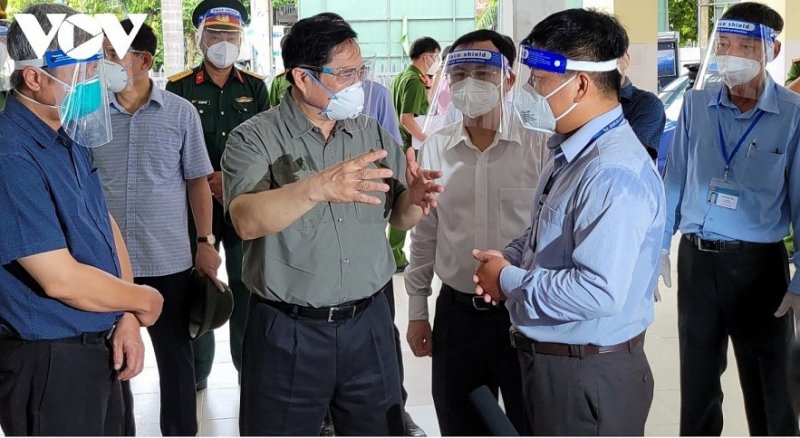 PM Pham Minh Chinh talk about COVID-19 prevention measures with Cat Lai ward authorities.
Visiting a COVID-19 treatment facility in Thu Duc city, part of the southern metropolis, he requested that local authorities classify patients according to their illness and offer appropriate treatment to them.
He also acknowledged the initial results of home treatment for F0 cases, although he emphasised the importance of creating conditions in which people could access health services in the fastest and most effective way possible.
Amid the country's difficult battle against COVID-19, every ward or commune must represent a fortress and every resident must be a soldier, he said, adding that grassroots-level administrations should continue encouraging people to strictly implement the Government's COVID-19 prevention measures.
Dropping in on an isolation facility for employees of Saigon New Port Corporation, the PM hailed the firm's COVID-19 prevention regulations aimed at maintaining production and keeping supply chains going in the key southern economic region.
Visiting an emergency social welfare centre in Cat Lai ward, the Government leader inquired into the health of armed forces guarding the facility, and asked them to work alongside the reinforced army personnel to ensure the safety of locals.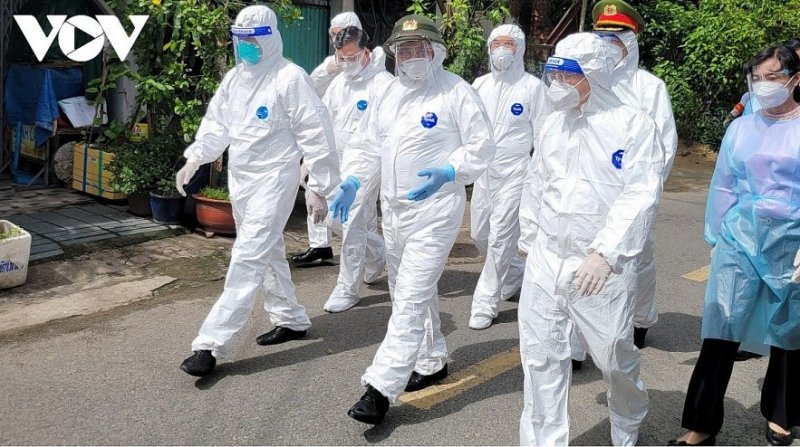 PM Pham Minh Chinh inspects COVID-19 prevention work at a local isolation facility
After Cat Lai ward, PM Chinh paid a visit to Saigon Cooperatives employees and volunteers who shop every day for local residents. He expressed his great appreciation of Saigon Co.op's efforts in maintaining stable food and foodstuff distribution channels, helping to regulate and stabilise the market.
In the context of fighting the COVID-19 pandemic, Ho Chi Minh City should continue providing a sufficient supply of food and other essential goods for local people, thereby ensuring that no one is left hungry, said the Government leader.
The same day also saw the PM inspect COVID-19 prevention work going on at a centre set up specifically to care for homeless people in the city.
VOV
TAG: