Vietnam Covid 19 Updates August 27 11 575 New Cases Reported
A total of 18,522,203 doses of Covid-19 vaccines have been administered so far, with 16,382,658 people receiving the first shots and 2,139,545 getting full two jabs.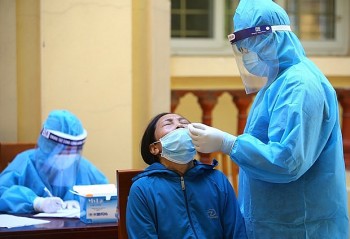 Vietnam Covid-19 Updates (August 23): HCMC Approves New US$113 Million Relief Package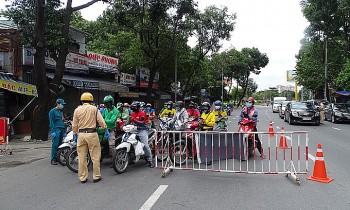 Vietnam Covid-19 Updates (August 22): Daily Caseload Hits New Record of Over 11.300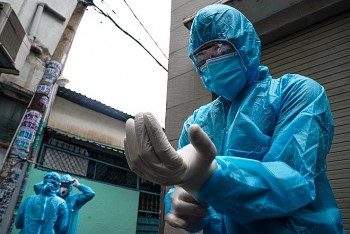 Vietnam Covid-19 Updates (August 21): 10,657 New Cases Recorded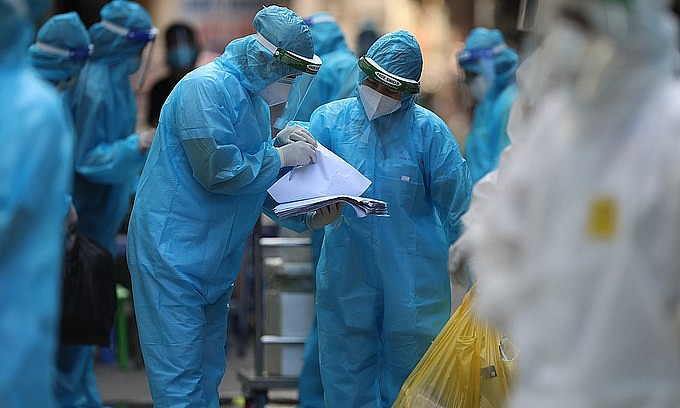 Photo: VN Express
Vietnam records 11,575 new Covid-19 cases on August 26
Vietnam recorded 11,575 new Covid-19 cases, including 11,569 domestic and six imported, in the past 24 hours to 6 pm on August 26, the Ministry of Health announced. The southern province of Binh Duong posted the newest cases with 4,868, followed by Ho Chi Minh City with 3,934, Dong Nai (743), Long An (449), and Tien Giang (354).
Also on August 26, 18,567 patients were given the all-clear from the virus, bringing the total number of recoveries to 188,488. There were 318 deaths recorded on the same day, pushing the total death toll to 9,667, equivalent to 2.5 percent of the total infections.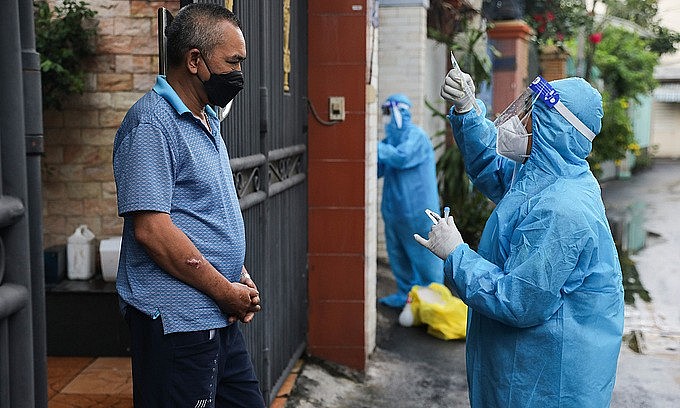 Photo: VN Express
The US hands over donated Pfizer vaccine to Vietnam
According to the Office of Vice President Kamala Harris, a shipment of 770,000 doses of the Pfizer COVID-19 vaccine donated by the United States has arrived in Vietnam. Harris revealed the information during her call at the National Institute of Hygiene and Epidemiology (NIHE) in Hanoi on August 26. The NIHE received 270,000 doses on August 26, while 500,000 doses were transferred to Ho Chi Minh City the day before.
Harris announced on August 25 the United States has decided to donate approximately 1 million doses of the Pfizer vaccine to Vietnam. The remaining 270,000 doses are scheduled to be delivered to Hanoi on August 27.
The US has so far donated 6 million doses of Covid-19 vaccines to Vietnam, including five million doses of Moderna channeled through COVAX. Vice President Kamala Harris is visiting Vietnam from August 24-26 at the invitation of Vice President Vo Thi Anh Xuan.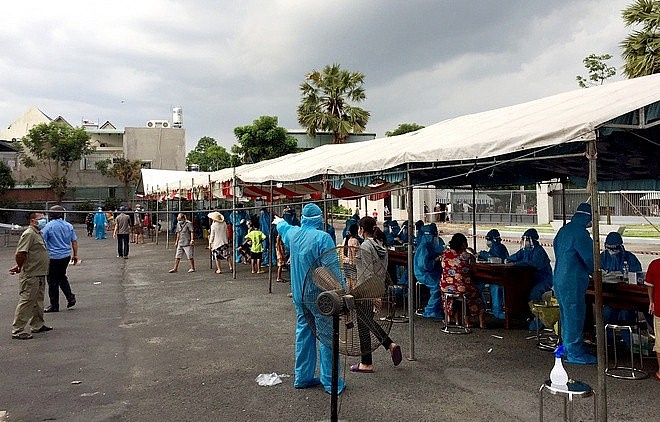 Photo: Zing News
OVs present medical masks to support HCM City's Covid-19 fight
The State Committee for Overseas Vietnamese Affairs said on August 26 that more than 40,000 specialized medical masks N95 worth over 32,000 USD, donated by the overseas Vietnamese (OV) community, have arrived in Ho Chi Minh City, promptly supporting the frontliners in the fight against Covid-19.
The donation is the result of the "80,000 masks for Saigon" fundraising program initiated by the "Join hands for Vietnam" group including young people studying and living in the United States. The masks are expected to be handed over to 63 hospitals and medical clinics in Ho Chi Minh City – Vietnam's largest Covid-19 hotspot – to better serve its pandemic prevention and control.
Doan Thi Minh Trang, a member of the group, said that the fundraising program has received great support from the overseas Vietnamese community in the US and many other countries with total funding of over 100,000 USD. Earlier, the group sent 16,560 medical masks N95 to Ho Chi Minh City. It promises to continue buying more medical masks and transport them to Vietnam as soon as possible.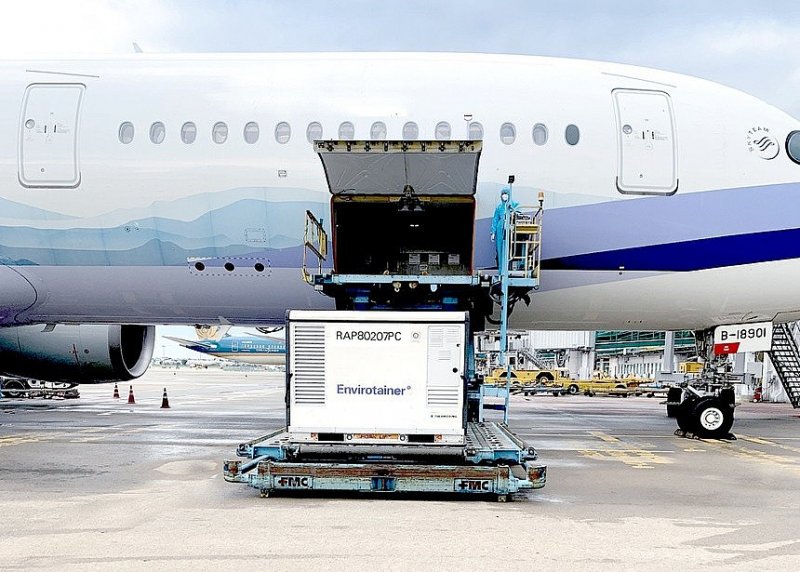 Photo: Zing News
Australia to present over 400,000 Covid-19 vaccine doses to Vietnam
Australia will deliver more than 400,000 AstraZeneca Covid-19 vaccine doses to Vietnam this week to help the Southeast Asian nation fight against the pandemic.
In a joint media release on August 26, Australian Foreign Minister Marise Payne and Minister for International Development and the Pacific Zed Seselja said the delivery is the first installment towards Australia's commitment of 1.5 million AstraZeneca doses to be shared this year with Vietnam, a close friend, and strategic partner.
It is in addition to Australia's existing 40 million AUD package of vaccine-related support to Vietnam. Australia is partnering with UNICEF to procure additional doses to support Vietnam's COVID-19 response, and providing funding for syringes, training of healthcare workers, fridges to maintain cold chain storage, and support for the vaccine rollout in remote provinces.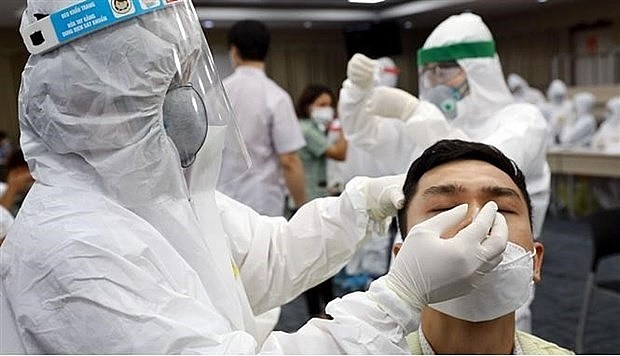 Photo: VNA
Oman lifts ban on travelers from Vietnam
Oman has lifted a ban on travelers from 24 red-listed countries, including Vietnam, and will allow fully vaccinated travelers to enter from September 1. All arrivals will be required to show a negative PCR test result and to have received both doses of any vaccine approved in Oman.
The sultanate has approved the emergency use of Pfizer-BioNTech, AstraZeneca, Sputnik V, and Sinovac vaccines. All passengers will however be required to take a PCR test on arrival and quarantine for seven days.
In June, Oman had added Vietnam to its travel ban list due to rising concerns over the Delta variant.
Vietnam reported a total of 392,938 cases since the start of Covid-19. Since the fourth pandemic wave hit the country on April 27, the country has counted 388,814 cases, of which 185,714 recovered.
A total of 18,522,203 doses of Covid-19 vaccines have been administered so far, with 16,382,658 people receiving the first shots and 2,139,545 getting full two jabs.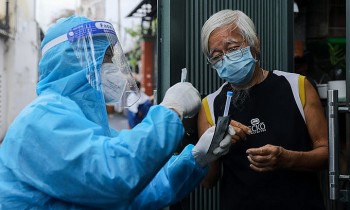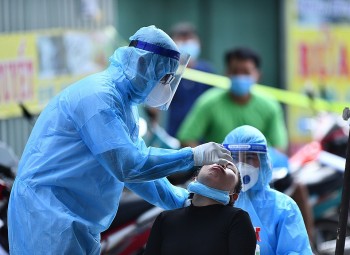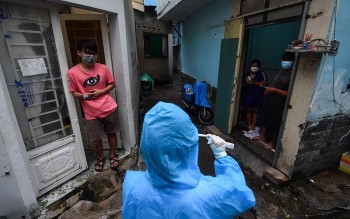 Valerie Mai
TAG: