Cao Bang sends medical workers to assist COVID-19 fight in Ho Chi Minh City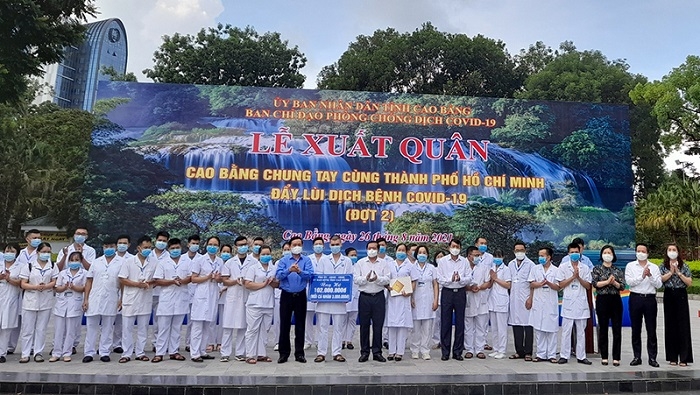 Cao Bang sends medical workers to assist COVID-19 fight in Ho Chi Minh City. (Photo: NDO/Minh Tuan)   
NDO – A ceremony was held in Cao Bang province on August 26, as a send-off for 34 local doctors and medical workers who will travel south to assist the COVID-19 fight in Ho Chi Minh City.
Speaking at the event, Secretary of the provincial Party Committee Lai Xuan Mon praised the dedication, enthusiasm and volunteering spirit of the medical workers. He also asked them to show a high sense of responsibility in achieving their assigned tasks, contributing to repelling and suppressing the pandemic.
On behalf of the delegation, doctor Dam Thi Dao affirmed that, following the order from the doctors' hearts, they are determined to overcome all difficulties and try their best to complete their assigned tasks.
On this occasion, Cao Bang province donated 20 tonnes of agricultural products to the people of Ho Chi Minh City.
Previously, on August 6, a delegation of 32 medical staff from Cao Bang left for Ho Chi Minh City to support the city's prevention and control of COVID-19.
* Also this morning, a train departed from Hanoi Railway Station, transporting 105 tonnes of goods and agricultural products to Ho Chi Minh City.
The transportation of the goods, including rice, instant noodles, cooking oil, fish sauce, and vegetables, was made possible thanks to the joint efforts of the Ministry of Industry and Trade and the Son La Provincial Industry and Trade.
The train is expected to arrive at the southern hub on August 28.
* On the same day, Hai Duong province donated 80 tonnes of rice and VND2 billion to Ho Chi Minh City, 40 tonnes of rice and VND1 billion each to Binh Duong and Dong Nai provinces, and VND500 million to Long An province in order to help contain the COVID-19 pandemic in Ho Chi Minh City and the three southern localities.
The provincial authorities also sent VND1 billion to support Hai Duong-based people working and living in Ho Chi Minh City to overcome difficulties caused by the pandemic.
TAG: