Vietnam Seeks COVID 19 Vaccine Supply Support from Belgium
Vietnamese Prime Minister Pham Minh Chinh, during his phone talks with his Belgian counterpart Alexander De Croo on August 25 evening, requested that Belgium help Vietnam access COVID-19 vaccine supplies from the COVAX Facility.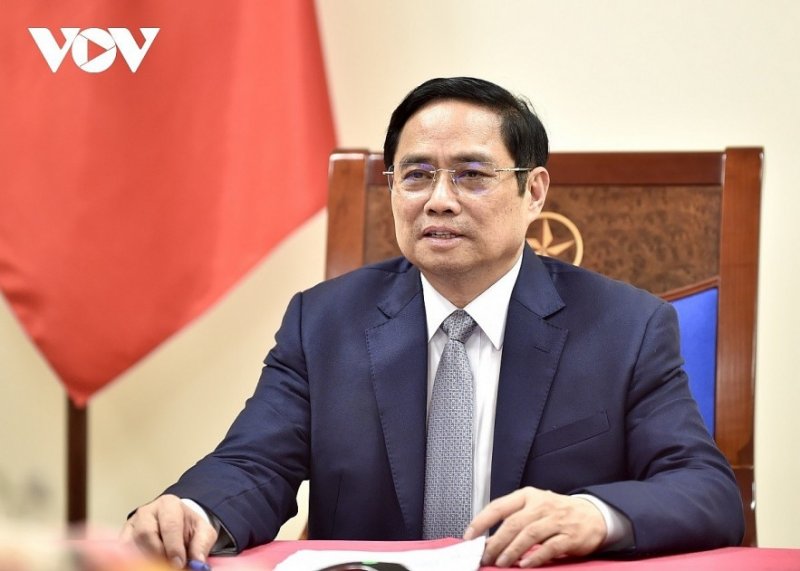 During his phone talks with with Belgian PM Alexander De Croo, PM Pham Minh Chinh requests that Belgium help Vietnam access more COVID-19 vaccine sources.
Vietnam expects to receive Belgium's assistance and support in COVID-19 vaccine access from COVAX as Belgium makes a positive contribution to this vaccine mechanism to assist countries with COVID-19 fight, Chinh told De Croo.
He also suggested that Belgium cooperate in transferring vaccine production technology and supplying treatment drugs and medical equipment to help Vietnam soon control the fresh COVID-19 outbreak, which is currently complicated in a number of provinces and cities.
PM De Croo noted COVID-19 is a great challenge for all countries in the world, and agreed that vaccination is the key to overcoming the pandemic. He affirmed that he would direct relevant Belgian agencies to positively respond to the Vietnamese side's request.
The two PMs shared the view that the traditional and friendly relationship between Vietnam and Belgium has developed positively and substantively over the past 50 years with a variety of cooperation frameworks that complement each other and promote the strengths of both sides, including the establishment of a strategic partnership on agriculture in 2018.
Chinh highly appreciated the role of Belgium, an important member of the European Union (EU), emphasized the effective implementation of the EU-Vietnam Free Trade Agreement (EVFTA) and asked the Belgian Parliament for early ratification of the Vietnam-EU Investment Promotion Agreement (EVIPA).
Alongside the EVFTA, the early enforcement of the EVIPA will give an important impetus to promoting economic relations between Vietnam and the EU as well as between Vietnam and Belgium, he stressed.
PM Chinh affirmed that the Government of Vietnam always supports and creates favorable conditions for foreign businesses, including Belgian firms, to come and do business in the long term in Vietnam, especially in the areas of Belgium's strengths in shipping, seaports, logistics services, renewable energy, high-tech agriculture, pharmaceuticals, among others.
He also asked the Government of Belgium to facilitate the export of Vietnamese farm products, especially rice, coffee, cocoa, and seasonal fruits such as lychee, longan, and dragon fruit into Belgian and EU markets. He suggested that Belgium lobby the European Commission (EC) to soon remove the "yellow card" mechanism for Vietnamese seafood, meeting the interests of Vietnamese businesses as well as Belgian and EU consumers.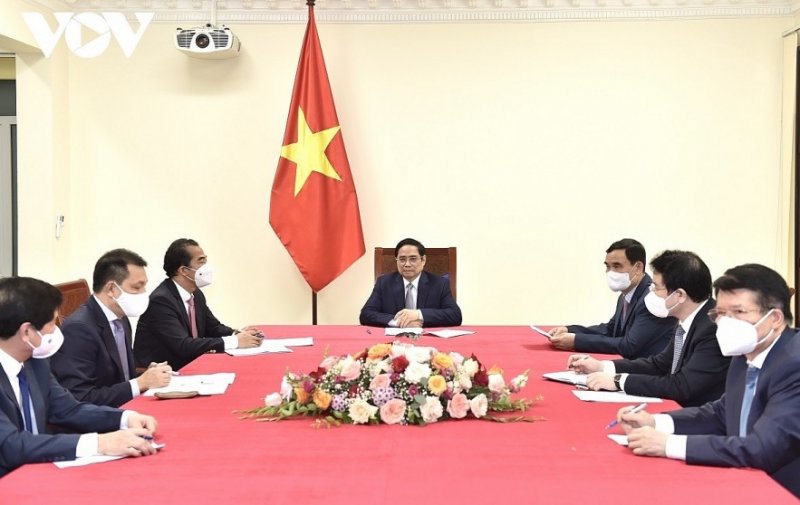 PM Pham Minh Chinh suggests that Belgium facilitate the export of Vietnamese farm products, especially rice, coffee, cocoa, and seasonal fruits such as lychee, longan, and dragon fruit into Belgian and EU markets
The two PMs agreed that Vietnam and Belgium hold great potential for stronger cooperation in education and training, human resource improvement, science and technology, and judicial security. The two countries will strive to increase investment and two-way trade towards a post-COVID sustainable recovery in order to lift their relations to new heights in a more substantive and effective direction.
The leaders emphasized the need for the two countries to strengthen their cooperation and support at multilateral forums, especially at the United Nations, ASEM, Francophone, ASEAN-EU, in order to address regional and global issues in the coming time.
With regard to the East Sea issue, the two leaders affirmed the importance of maintaining peace, stability, security, safety and freedom of navigation and overflight in the regional waters. They stressed the need to peacefully settle sea-related disputes based on international law, including the 1982 United Nations Convention on the Law of the Sea, while fully and effectively implementing the Declaration on the Conduct of Parties in the East Sea (DOC) towards achieving a substantive and effective Code of Conduct in the waters (COC).
PM Pham Minh Chinh invited PM Alexander De Croo to visit Vietnam at an appropriate time. De Croo happily accepted the invitation, and said he is looking forward to welcoming Chinh to Belgium soon.
VOV
TAG: