Vietnam and Laos join hands to fight back the pandemic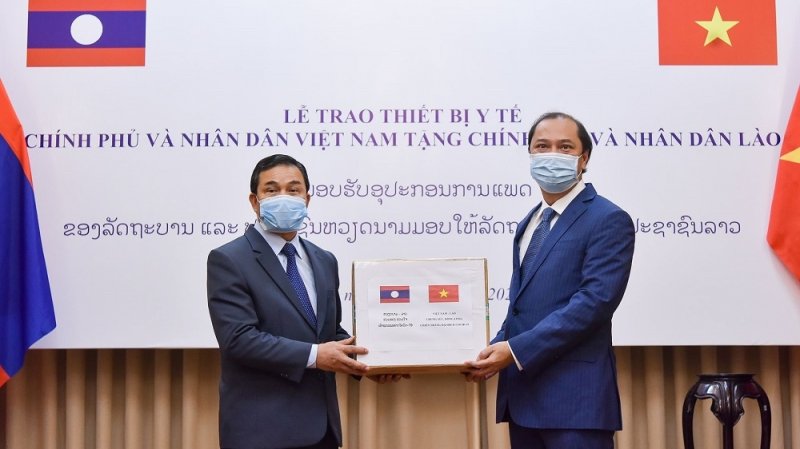 Vietnam donates medical equipment to Laos. (Photo: MOFA)   
NDO - Lao Ambassador to Vietnam Sengphet Houngboungnuang has spoken highly of General Secretary Nguyen Phu Trong's call to the Vietnamese people to make greater efforts to drive out the pandemic.
In comments shared with Nhan Dan, the diplomat praised Vietnam's spirit of fighting the pandemic like fighting the enemy while giving top priority to protecting people's lives.
He expressed his hope that, in response to the top leader's call, all Vietnamese people will work side by side with the Party, Government and authorities at all levels to soon succeed in driving out the "invisible enemy" of COVID-19.
The Lao Ambassador stated that the Vietnamese Party and State have issued bold instructions aimed at stepping up the pandemic fighting efforts to protect public health and support economic recovery.
He cited social distancing, the vaccination strategy, vaccine diplomacy and the 5K guidelines as notable measures which have produced positive results.
As two close neighbours, Vietnam and Laos have been supporting each other since the pandemic began.
Expressing sincere gratitude for Vietnam's prompt support, Ambassador Sengphet Houngboungnuang stated that Vietnam had sent a delegation of experts along with medical equipment to Laos to help the country prevent the spread of the virus.
He affirmed that despite facing many difficulties, the Lao Party, State and people also support the Vietnamese Party, State and people in return for Vietnam's valuable assistance.
The ambassador emphasised that the mutual concern, sharing and support in fighting COVID-19 demonstrate the special solidarity between the two countries' Parties, States and peoples.
During the recent friendly official visits by Lao General Secretary and President Thongloun Sisoulith to Vietnam and Vietnamese President Nguyen Xuan Phuc to Laos, the two countries' leaders vowed to support each other in addressing the difficulties caused by the pandemic and closely work together in fighting the pandemic and promoting economic recovery.
Ambassador Sengphet Houngboungnuang stated that, as the pandemic may remain complicated and persist for a long time, the two countries should exchange information and experience frequently as well as maintain cooperation in appropriate forms.
The Lao diplomat expressed his confidence that the sharing and cooperation between Vietnam and Laos will produce positive results in the battles against COVID-19 in each country, helping to cement the great friendship, special solidarity and comprehensive cooperation between the two countries.
TAG: