Nearly 79% of adults in Ho Chi Minh City have at least one COVID-19 shot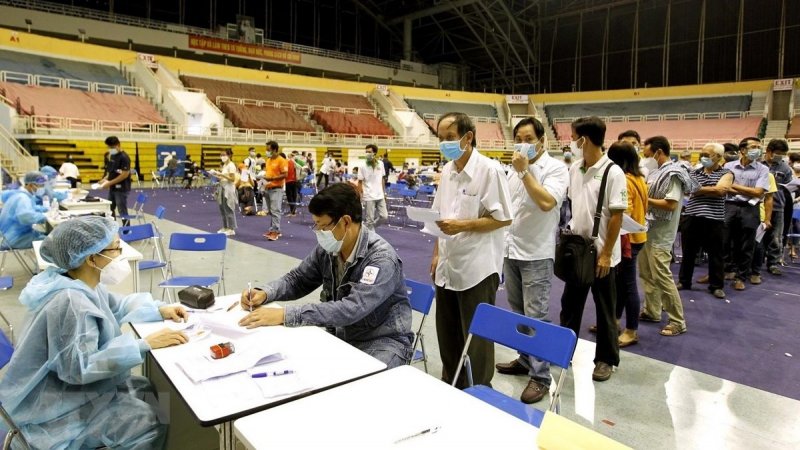 People are completing medical declaration procedures before receiving COVID-19 shot at Phu Tho Gymnasium, Ho Chi Minh City. (Photo: Thanh Vu/VNA)   
NDO – More than 5.2 million adults, equivalent to 78.9% of Ho Chi Minh City residents over 18 years old, have received at least one COVID-19 vaccine shot while 3.1% of the adults are fully vaccinated as of August 24.
The information was announced at a press conference on COVID-19 prevention and control in Ho Chi Minh City on August 24.
According to Pham Duc Hai, deputy head of the city's Steering Committee for COVID-19 Prevention and Control, the Government decided to allocate 71,000 tonnes of rice to support the city in the pandemic fight, with the first batch of rice relief, weighing 14,549 tonnes, scheduled to arrive in the city before September 6.
The city also received various types of necessities worth over VND594 million, donated by enterprises and benefactors on August 24, Hai noted.
The city's centre for social welfare has launched the programme to provide two million welfare bags worth VND300,000 each to needy people in the city, 347,000 of which have been presented to needy households as of August 23.
Hai said that as many as 178 initiatives and solutions on ensuring social security during the pandemic have been implemented including 109 charity kitchens, 59 stalls for zero dong goods, seven rice ATMs, community refrigerators, and others.
In addition, the city has gathered more than 200 beggars and vagrants to provide them with COVID-19 testing, healthcare and accommodation amid the strict regulations on pandemic prevention and control, the city's official said.
Mass COVID-19 testing also continues in the city with more than 15,000 RT-PCR samples conducted on August 23.
TAG: