Ensuring sufficient supply of goods for Ho Chi Minh City: Deputy PM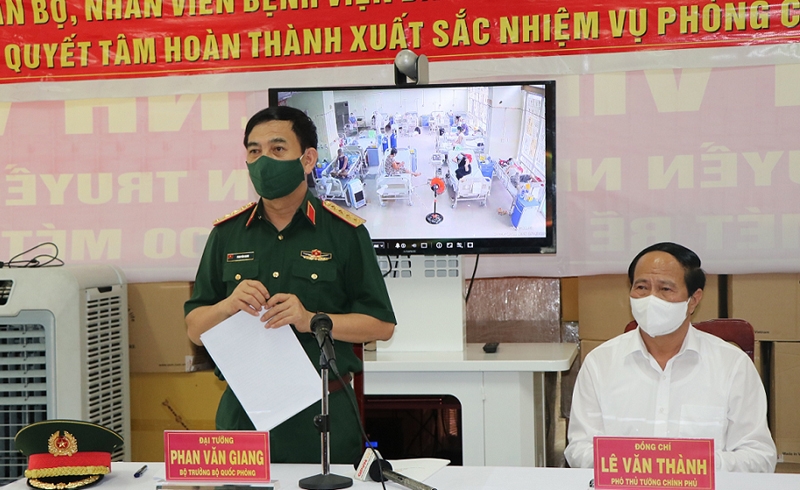 General Phan Van Giang (speaking) and Deputy Prime Minister Le Van Thanh at the meeting with 5D field hospital at the Vietnam National University, Ho Chi Minh City. (Photo: mod.gov.vn)   
NDO - Deputy Prime Minister Le Van Thanh led a delegation to Ho Chi Minh City on August 23 to inspect Government directives on the prevention and control of the COVID-19 pandemic, particularly in regards to the supply of adequate food for people.
The delegation also saw the participation of General Phan Van Giang, Politburo member and Minister of National Defence as well as members of the Government's Special Working Group in Ho Chi Minh City and representatives from various ministries.
The delegation visited the 5D field hospital at Vietnam National University, Ho Chi Minh City, the pandemic checkpoint at Dong Nai Bridge (a gateway to Ho Chi Minh City), and the place distributing food for people in Linh Trung ward, Thu Duc City.
Deputy PM Le Van Thanh emphasised that ministries, sectors and the armed forces have concentrated their resources on supporting Ho Chi Minh City in recent days. He noted that the city has been well prepared for ensuring security and order, treating COVID-19 patients and providing food and necessities for the people.
Linh Trung ward is a good example as the ward has arranged food for needy households and established a food warehouse ready to distribute to local people, Thanh added.
The Deputy PM said that it is necessary to establish a distribution system to ensure that people in difficulty have enough food until September 15, with special attention paid to homeless people.
In order to stamp out the pandemic, it is important to ensure adequate food for people during the social distancing period, Thanh said.
There must be solutions to provide necessities for people so that they will stay at home without having to go out to shop. If the city encounters difficulty in dealing with this problem, the Government will handle it promptly to ensure the source of goods for the city, the Deputy PM stressed.
He also asked for unity and smooth coordination between forces to care for the people.
TAG: