Vietnamese President Emphasizes Importance Of Inter Parliamentary Cooperation At AIPA 42
Vietnamese President Nguyen Xuan Phuc highlighted the importance of inter-parliamentary cooperation while delivering a welcoming remark at the 42nd General Assembly of the ASEAN Inter-Parliamentary Assembly (AIPA-42) on Monday.
Vietnamese delegation at AIPA-42. Photo VNA
"More than ever, ASEAN must show a right vision and its identity of unity, cohesion and resilience of a Community to surmount all challenges and move forwards," he said.
"Every step forwards the ASEAN Community is taking could not be possible without the important role of legislative bodies, represented by AIPA and member parliaments," he told the meeting.
On behalf of the State and people of Vietnam, President Phuc extended greetings to AIPA-42 President and Speaker of the Legislative Council of Brunei Abdul Rahman Taib Pehin Orang Kaya Seri Lela, and speakers and heads of delegations of AIPA member parliaments.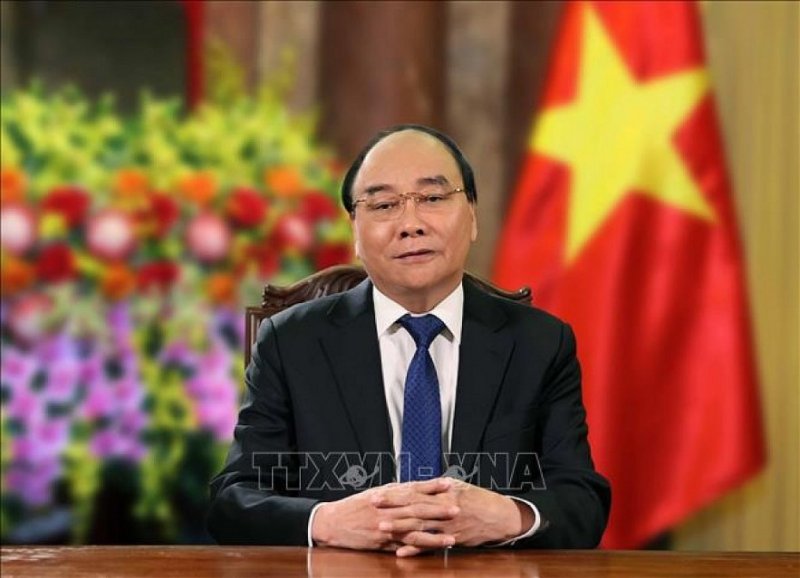 Vietnamese President Nguyen Xuan Phuc sends a welcoming message to the AIPA-42 opening ceremony on Monday. Photo VNA
He also highly spoke of this year's theme, saying Vietnam is committed to continue engaging actively and responsibly in multilateral cooperation frameworks, in both lawmaking and law enforcement, Vietnam News Agency reported.
The president expressed his confidence that the AIPA-42 will be a success.
Leading the Vietnamese delegation to attend the virtual opening ceremony of the 42nd AIPA on Monday, Chairman of Vietnamese National Assembly Vuong Dinh Hue called for the AIPA's solidarity and common responsibility in cooperating and sharing experience, especially the application of science, technology, to effectively control the Covid-19 pandemic.
"More than ever, the Covid-19 pandemic has underscored the urgency across the board pertaining to state governance, and adjustments of policies and development goals. It has also emphasized the demand for digitalization and the building of a digital economy, so as to timely respond to the pandemic and sustain socio-economic development," he said.
According to him, the pandemic constitutes a catalyst for ASEAN's endeavors to accelerate the digitalization of its economy, effectively harness the 4th Industrial Revolution, narrow the digital gap, and ensure digital equality in the region.
He highly commended the first ASEAN Digital Ministers' Meeting in January 2021 for approving the ASEAN Digital Master Plan 2025, and supported the efforts to adopt and implement ASEAN's Consolidated Strategy on the 4th Industrial Revolution.
Such endeavors would serve to create an innovative ASEAN Community and enhance ASEAN's competitiveness in the global economy, he added.
He said the AIPA-42's theme which is "Forging Parliamentary Cooperation in Digital Inclusion towards ASEAN Community 2025" outlines the need to further build on the vital role of AIPA and its member parliaments in accelerating digitalization, ensuring stable growth and fostering sustainable recovery of ASEAN.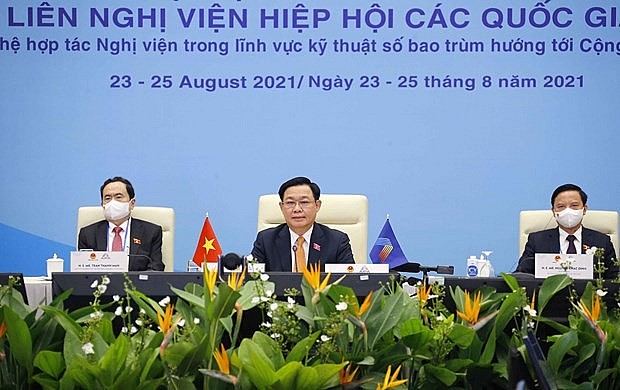 Chairman of Vietnamese National Assembly Vuong Dinh Hue (middle) calls for the AIPA's solidarity and common responsibility in cooperating and sharing experience, especially the application of science, technology, to effectively control the Covid-19 pandemic. Photo VNA
It aims to maintain ASEAN's key contributions to regional peace, stability and prosperity.
He proposed AIPA member Parliaments need to complete the legal framework and remove barriers to facilitate the implementation of digital transformation policies, with a view to building the e-Government towards a digital government.
"We need to mobilize social resources to develop a digital ecosystem via public - private partnership and create incubators to develop digital corporations and start-ups. In particular, it is necessary to align the ASEAN Comprehensive Recovery Framework with the plans of each country to assist their enterprises in enhancing innovation and expediting digitalization, thereby allowing them to ensure stability and resume production and business activities.
'We need to improve policies and legal frameworks and support initiatives in the cooperation within ASEAN and between ASEAN and its partners on cybersecurity, information privacy, data protection and confidence building in the digital sphere. An advanced digital infrastructure and necessary confidence in this field will pave the way for the quick and sustainable development of ASEAN countries," he said.
A 15-member delegation of Vietnam are scheduled to engage in major activities of the AIPA-42, including the opening ceremony, the first and second plenary sessions, the meeting of the Women Parliamentarians of AIPA (WAIPA), meetings of AIPA committees, the signing of the joint statement and the closing ceremony.
Fostering international cooperation to win Covid-19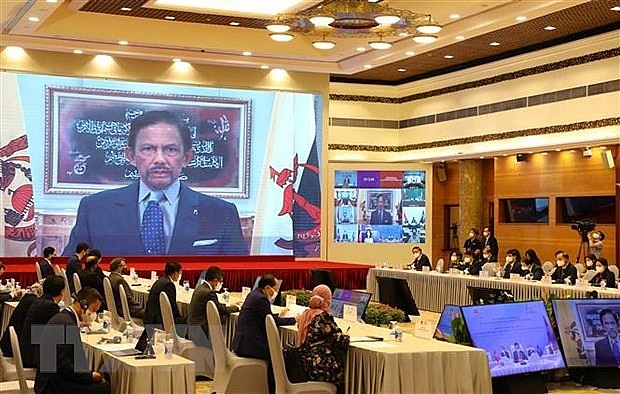 Sultan of Brunei Haji Hassanal Bolkiah delivers a speech at the event. Photo VNA
Heads of delegations to the ongoing AIPA-42 highlighted the importance of international cooperation and commended timely measures conducted by governments of regional nations in response to the pandemic.
Raising their opinions at the AIPA-42's first plenary session on Monday afternoon, they called on countries in the region to strengthen their cooperation in information sharing, research, and fair access to Covid-19 vaccines, treatment drugs, and medical supplies; and to give more power to their governments for more active, flexible, and effective response to the epidemic.
For the post-pandemic recovery, they urged an early ratification of trans-regional free trade agreements, including the Regional Comprehensive Economic Partnership (RCEP) agreement between ASEAN and its five partner nations.
They also called for cooperation among ASEAN parliaments to boost innovation, complete legal frameworks, lift barriers, and create conditions for regional governments to improve digital connectivity, ensure fair digitalisation, and build a comprehensive, safe, and inclusive digital infrastructure.
The promotion of public-private cooperation and enhancement of digital capacity are also necessary, they added.
AIPA-42, themed "Forging Parliamentary Cooperation in Digital Inclusion towards ASEAN Community 2025", is taking place via videoconference from August 23 to 25 with the participation of leaders and legislators of AIPA member parliaments, observer delegations, and the AIPA Secretary-General.
During the AIPA-42, member parliaments will discuss and adopt a procedure to organize AIPA Young Parliamentarians' meetings, which is a specific step to realize Vietnam's initiative at the 41st AIPA General Assembly held in Vietnam in 2020, creating favorable conditions for young parliamentarians to join AIPA activities.
" "
Rosemary Nguyen
TAG: