Ho Chi Minh City pledges adequate supply of goods for people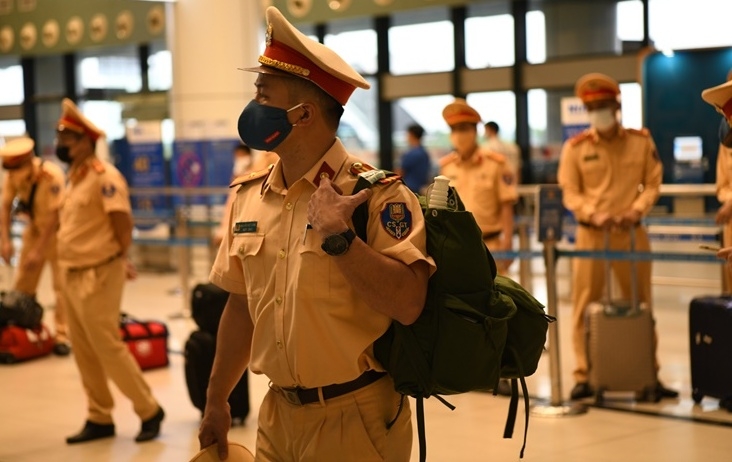 The Traffic Police Department sends 40 officers from Hanoi to Ho Chi Minh City to help the southern city in pandemic prevention and control.   
NDO - Leaders of Ho Chi Minh City requested for people to stay calm and not hoard goods and stated that the city is committed to providing adequate supplies for people during the implementation of enhanced anti-pandemic measures.
"The city has prepared plans to ensure the supply of goods and essential necessities for the people," Permanent Deputy Secretary of the Ho Chi Minh City Party Committee Phan Van Mai said on the morning of August 21.
After it was reported that the city will continue to strengthen pandemic prevention and control measures, large numbers of people went out to the streets from August 20 to the morning of August 21 to shop and gather goods.
According to the Permanent Deputy Secretary, this will lead to disorder, affecting social distancing and increasing the risk of spreading the COVID-19 virus. If this situation is not stopped, it will be impossible to control the disease, greatly affecting the prevention and control of COVID-19 pandemic.
The city leader urged people to stay calm and not to pile up goods while suggesting that people trust the city's policy and support the joint efforts against the pandemic.
*The Traffic Police Department sent 40 officers from Hanoi to Ho Chi Minh City on August 21 to help the southern city in pandemic prevention and control at gateways to the city.
*All citizens travelling through checkpoints at gateways to Hanoi must conduct medical declaration on the citizen mobility management system from 6am on August 22, except for those who have already made a medical declaration for "green lines" vehicles, according to the Hanoi Police.
* On August 21, the Hanoi High Command presented 1,400 gifts of necessities worth a total of VND400 million to unemployed workers, policy beneficiary households and needy students in the wards of My Dinh 1, Trung Van and Xuan Phuong in Nam Tu Liem District, Hanoi.
The Hanoi High Command has presented more than 12,000 gifts, worth over VND4 billion, and bought 143,000 eggs and 103 tonnes of vegetables and fruit to send to needy people from August 15 until present.
* The Military Medical Academy held a ceremony in Hanoi on August 21 to send 295 doctors and fourth-year students to Ho Chi Minh City and the southern provinces.
They have been divided into 60 mobile medical teams to support southern provinces in the fight against the pandemic. An additional 100 mobile medical teams are scheduled to be sent to the south in the coming week.
TAG: