Health Ministry suggests establishment of mobile medical stations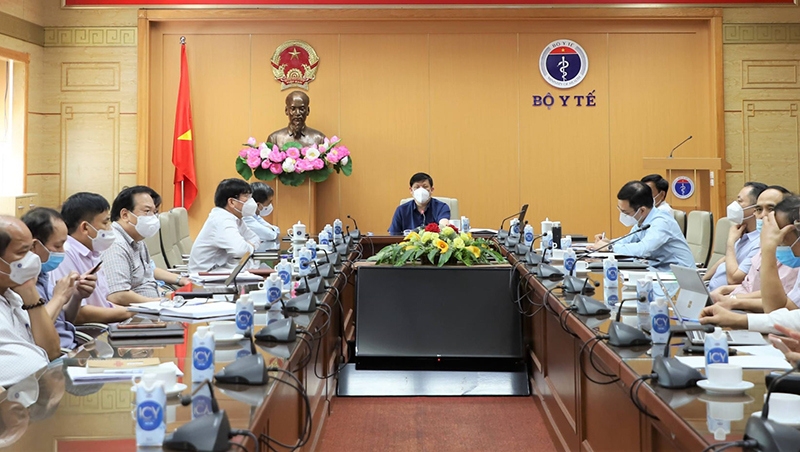 At the online meeting between the Ministry of Health and the four provinces and cities of Ho Chi Minh City, Binh Duong, Long An and Dong Nai on August 19.   
NDO - The Ministry of Health will coordinate with Ho Chi Minh City and other localities to set up mobile medical stations to provide people with primary health care using minimal human resources.
The statement was made at an online meeting between the Ministry of Health and the four provinces and cities of Ho Chi Minh City, Binh Duong, Long An and Dong Nai on August 19, held to discuss measures needed in the fight against the COVID-19 pandemic.
According to Health Minister Nguyen Thanh Long, each commune and ward currently has a medical station but in the current context, it is possible to set up several mobile medical stations in a commune and ward, especially in densely populated areas and areas with a high level of COVID-19 cases.
"Mobile medical stations perform the function of providing primary health care for people in the area while managing and treating people infected with the COVID-19 virus based in the community and family," said the Minister.
Besides providing normal medical examinations and treatment for local people, mobile medical stations will monitor COVID-19 cases at their home, provide treatment for F0 cases, and carry out rapid COVID-19 testing, vaccination and communication work.
According to the Health Minister, mobile medical stations can be located at gymnasiums, communal houses, buildings of the local People's Committees, private clinics and so on and will operate 24/24.
A mobile medical station should have at least one to two doctors and five to seven medical workers in addition to local volunteers who know the area and its population well.
Minister Long said that at least two oxygen tanks with masks and other emergency devices and medicines will be present in each mobile medical station.
"A mobile medical station has minimal conditions and uses minimal human resources but must ensure the care and treatment of normal diseases and the management and treatment of COVID-19 patients in the community," the Minister added.
* On August 19, the Steering Committee for COVID-19 Prevention and Control in Can Tho City said that through three phases of COVID-19 screening and testing for its entire population from August 9 – 17, the city organised testing for more than one million people.
As a result, 387 COVID-19 infected cases were detected in the community and 204 cases were found in quarantine areas.
The city will carry out its fourth phase of testing from August 19-25 to detect further F0 cases.
*Dong Nai province is also conducting large-scale COVID-19 testing for about 2.1 million people across its entire province. The testing is expected to be completed before August 31 to quickly isolate all F0 cases and expand its "green" zones.
During the fourth wave of the pandemic, the province has recorded 15,629 positive cases with the largest number, 6,400 cases, in Bien Hoa city.
TAG: