Health Ministry allocates 30,000 Remdesivir vials to southern provinces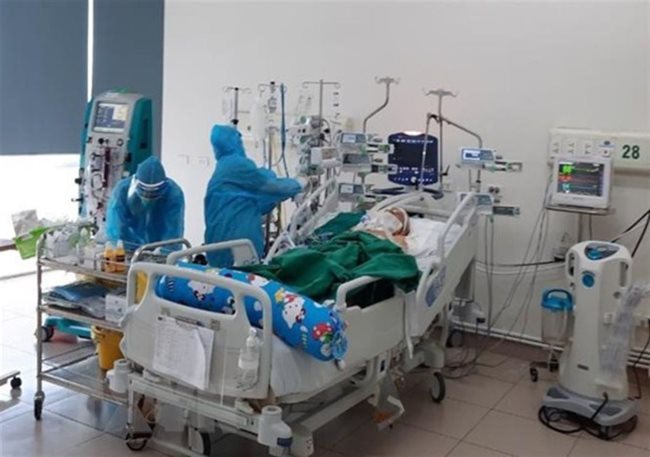 Medical workers take care of a Covid-19 patient. The Ministry of Health has allocated 30,000 vials of Remdesivir, a Covid-19 antiviral, to several provinces and cities in the southern region - PHOTO: VNA
HCMC - The Ministry of Health has allocated 30,000 vials of Remdesivir, a Covid-19 antiviral, to several provinces and cities in the southern region, including Can Tho, HCMC, Tien Giang, Dong Nai, Ba Ria-Vung Tau, Long An and Dong Thap, to treat Covid-19 patients.
This is the second time the ministry has allocated the antiviral drug to hospitals and clinics, the local media reported.
Earlier on August 8, the first batch of 10,000 vials of Remdesivir was allocated to HCMC for Covid treatment.
Some 330,000 Remdesivir vials will arrive in HCMC from August 19 until the end of August. This is part of the 500,000 vials that Vingroup had announced it would present to the Ministry of Health.
Remdesivir was approved to be used to treat Covid patients by the U.S. Food and Drug Administration in October 2020.
As Remdesivir shortens the course of illness, as many as 50 countries including the United States, Australia, Japan, Singapore and India have been using it for treatment.
As per the guidance on using Remdesivir for Covid treatment that was issued by the Ministry of Health, Remdesivir is prioritized for those with underlying medical conditions, suffering from obesity (BMI > 25) and aged over 65.
Associate Professor Dr. Luong Ngoc Khue, head of the Department of Medical Examination and Treatment, said Remdesivir should be prescribed by doctors and people should not buy it for Covid treatment at home.
TAG: