UN Resident Coordinator in Vietnam honoured with friendship insignia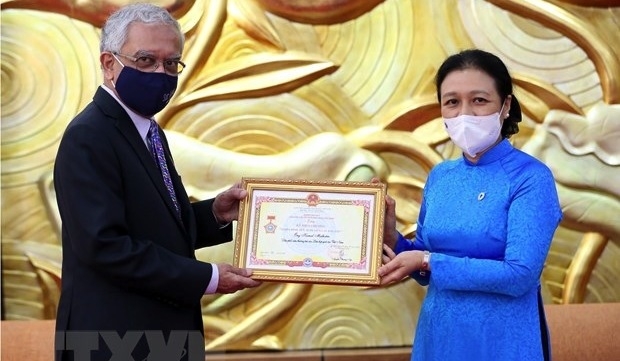 VUFO President Ambassador Nguyen Phuong Nga presents the insignia to the UN Resident Coordinator at a ceremony in Hanoi on August 17. (Photo: VNA)   
NDO - Outgoing United Nations' Resident Coordinator in Vietnam Kamal Malhotra was presented with the "For peace and friendship among nations" insignia by the Vietnam Union of Friendship Organisations (VUFO) in recognition of his contributions to promoting Vietnam's position in the system of UN bodies across the world.
VUFO President Ambassador Nguyen Phuong Nga presented the insignia to the UN Resident Coordinator at a ceremony in Hanoi on August 17.
During his five years working in Vietnam as the UN Resident Coordinator, Kamal Malhotra has worked closely with his Vietnamese counterparts to accomplish common goals such as building and implementing the One Strategic Plan (OSP) for the 2017-2021 period and building a framework for development cooperation between Vietnam and the UN in the 2022-2026 period.
He has also made great efforts in boosting the implementation of the "One United Nations" initiative, contributing to improving the effectiveness of UN activities as well as enhancing Vietnam's position and pioneering role within the system of UN agencies around the world.
Kamal Malhotra has played an important role in enhancing Vietnam's participation in UN peacekeeping activities while co-organising many meaningful activities on pressing issues such as mines-explosives and women-peace and security.
He also expressed the UN's strong support for Vietnam in the role as ASEAN Chair 2020 and as a non-permanent member of the UN Security Council for the 2020-2021 term.
In addition, Kamal Malhotra represents other UN agencies in actively assisting Vietnam with sharing information and providing policy advice on the COVID-19 pandemic and supplying COVID-19 vaccines and medical supplies for Vietnam.
The UN is currently one of the largest organisations providing COVID-19 vaccines to Vietnam through the COVAX mechanism, with a total of nearly 10 million doses.
Ambassador Nguyen Phuong Nga expressed her wish that Kamal Malhotra would continue to support Vietnam while making great contributions to maintaining peace and promoting sustainable development in the world.
Kamal Malhotra expressed his honour at being awarded the "For peace and friendship among nations" insignia, noting that he has held various positions in Vietnam but the position of UN Resident Coordinator over the past five years has been the most honourable job and brought him the most profound memories.
TAG: