Exhibition to pay tribute to General Vo Nguyen Giap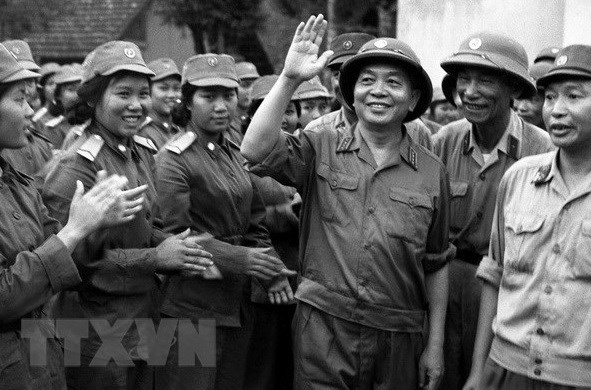 General Vo Nguyen Giap was an excellent disciple of President Ho Chi Minh and the eldest Brother of the Vietnam People's Army. (VNA File Photo)   
NDO – An online exhibition entitled 'General Vo Nguyen Giap – The legendary general' will be held on August 22 by the Thang Long-Hanoi Heritage Conservation Centre to celebrate the general's 110th birth anniversary (1911-2021).
Launched at https://trungbayonline.hoangthanhthanglong.vn/, the works on display include 200 photos and documents highlighting General Giap's achievements and contributions when he served as the Secretary of the Central Military Commission, Minister of National Defence and Commander in Chief of Vietnam People's Army.
General Vo Nguyen Giap (1911-2013), whose birth name is Vo Giap, was born in Loc Thuy commune, Le Thuy district, the central province of Quang Binh. He was an excellent disciple of President Ho Chi Minh and the eldest Brother of the Vietnam People's Army.
He led the Vietnamese people's army from victory to victory during the resistance war against French colonialists and then the American imperialists. He became famous following his championing at the Battle of Dien Bien Phu, which ousted the French from Vietnam in 1954.
In recognition of his great contributions to the Party and country's revolutionary cause, he was awarded the Gold Star Order, the Ho Chi Minh Order, the 70-year Party membership insignia and other noble orders and medals of Vietnam and foreign countries and organisations.
TAG: