Youth promotes vanguard role in COVID-19 combat
Youth Union of Binh Thuan Medical College launches two volunteer teams to assist frontline workers at COVID-19 checkpoints. (Photo: doanthanhnien.vn)   
NDO – Following Party General Secretary Nguyen Phu Trong's call for concerted efforts against COVID-19, youth union members and young people across the country have promoted their vanguard role, enthusiasm and creativity by joining activities on protecting public health.
Amidst the complicated developments of the pandemic in southern provinces and cities, recently, 57 students from the Yersin University of Da Lat in the Central Highlands province of Lam Dong volunteered to head to Binh Duong province to support the COVID-19 fight. The group of volunteer students will work at hospitals in the province, especially field hospitals.
In Bac Giang province, the local Youth Union is working on final procedures before sending nearly six tonnes of medical supplies and necessities worth about VND400 million VND to support Ho Chi Minh City and Dong Nai provinces.
Previously, hundreds of local youth union members joined hands to transport 200 tonnes of goods and necessities donated by individuals, units and businesses in the province to support people in the southern localities in response to the Vietnam Fatherland Front (VFF)'s Bac Giang province chapter's call.
Meanwhile, the Dong Nai Provincial Youth Union in coordination with the provincial VFF chapter launched two websites https://dongnaiyeuthuong.com and http://vanchuyen.dongnaiyeuthuong.com to support the reception, management and distribution of donations for pandemic-hit people in the locality.
By accessing the websites, people can update information on how donations have been received and allocated in the province since July, 2021. They can also get access free health consultation and register to participate in volunteer activities.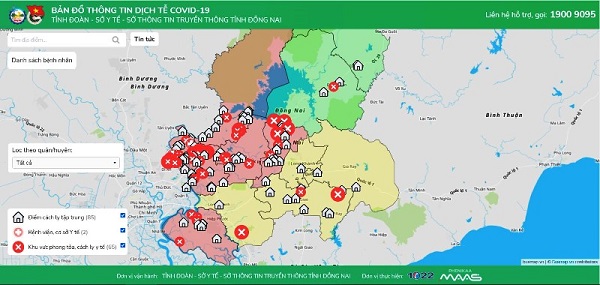 COVID-19 of Dong Nai proivnce.
The provincial Youth Union has also closely coordinated with the local Department of Health, and Department of Information and Communications in developing a COVID-19 map at https://covidmapsdongnai.com.
People can search for and be updated on confirmed COVID-19 cases in Dong Nai, their epidemiological information, treatment status, and places they had visited within the last 14 days. The map also provides information on concentrated quarantine facilities, sealed off areas, and medical establishments, among others.
While southern provinces and cities are implementing social distancing measures under Prime Minister's Directive No. 16, local youth unions at all levels have actively contributed to facilitating their hometowns' prevention and control measures.
Accordingly, the Youth Union of Binh Thuan Medical College launched two volunteer teams to assist frontline workers at COVID-19 checkpoints in Tan Hai commune (La Gi town), and Tan Duc commune (Ham Tan district) from late July to mid-August.
Similar volunteer teams have also been set up by the Binh Thuan Provincial Youth Union to support the province's vaccination programme.
Many other initiatives have also been developed by youth unions across the country, contributing to the battle against COVID-19, including the launch of mobile disinfection team in Long An province,a programme on providing bottled water to frontline workers in Hoa Binh province, and the successful operation of 'Zero-VND minimarkets" in Hanoi.
TAG: