Hanoi authorities issue resolutions to support pandemic-hit people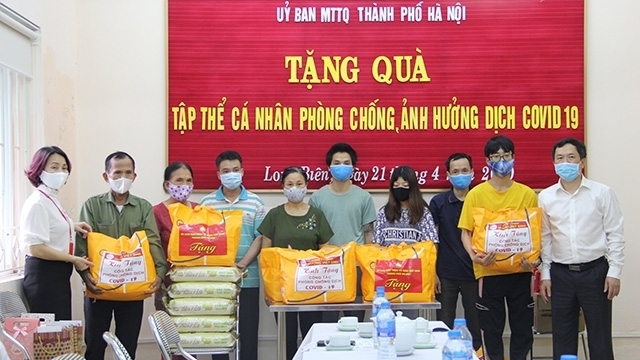 Gifts presented to pandemic-hit households in Long Bien district, Hanoi (Photo: NDO/Giang Nam)    
NDO – The Hanoi municipal People's Council recently issued three resolutions to support people in the city and help them overcome the difficulties caused by the COVID-19 pandemic.
Under a Resolution No. 15/NQ-HDND, the municipal People's Council approved aid packaged worth VND345 billion for 10 groups of people in the city whose livelihoods have been affected by COVID-19 pandemic.
These groups include poor and near-poor households; social welfare beneficiaries; revolutionary contributors and wounded soldiers; employees who have had their labour contracts suspended or have taken unpaid leave, employees who have had their labour contracts terminated; owners of private kindergartens who had to stop working for at least 15 days due to COVID-19 from May 1-December 31, 2021; and pregnant employees, among others.
In Resolution No. 16/NQ-HDND, the municipal People's Council implemented a 15% price cut in water bills of local households in the last four months of this year.
In addition, the city will cover 100% water bills for local concentrated quarantined areas and treatment facilities for infected and suspected COVID-19 patients, poor and near-poor households.
The city authorities have also decided to cover expenses for funeral services for deceased COVID-19 patients under Resolution No. 17/NQ-HDND.
* On August 13 and 14, the Vietnam Fatherland Front (VFF)'s Quang Nam province chapter donated 20 tonnes of agricultural products to people in Son Tra district, Da Nang city to help them overcome difficulties caused by COVID-19.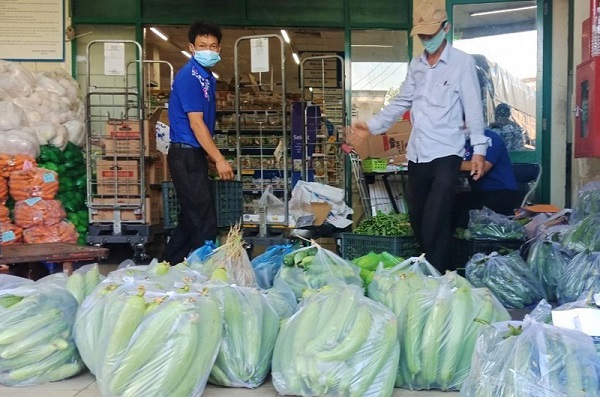 Locals in Quang Nam province packaging vegetables and fruit to donate to people in Da Nang city. (Photo: NDO/Quoc Viet)
On this occasion, the VFF's chapter in Dai Loc district, Quang Nam province also mobilised local people to donate 5 tonnes of rice and more than 25 tonnes of vegetables and fruit to support Da Nang residents.
* The Tra Vinh provincial People's Committee has approved an aid package worth VND43.7 billion to support 31,000 informal workers affected by COVID-19 in the province, following Government issued Resolution 68/NQ-CP on some policies to support employees and employers hit hard by the COVID-19 pandemic.
Of which, VND23 billion has been disbursed to benefit 15,500 no-contract workers, most of them motorbike taxi drivers, trash collectors, porters, and masons.
TAG: