Over 9,000 new cases of Covid-19 reported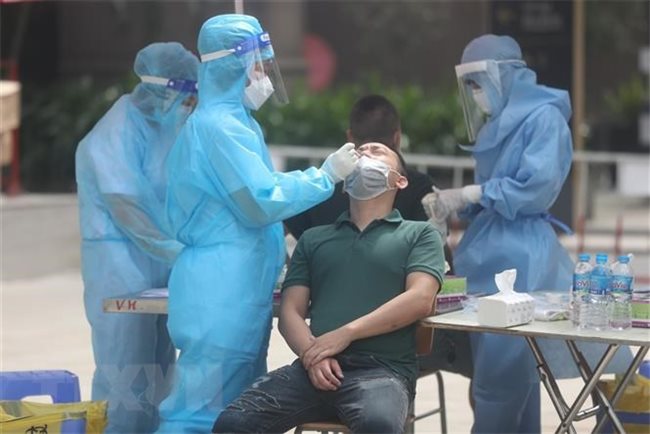 A medical worker collects samples of a man for Covid-19 testing. The Ministry of Health confirmed 9,180 more Covid-19 cases today, August 13, falling 487 cases against the previous day – PHOTO: VNA
HCMC – The Ministry of Health confirmed 9,180 more Covid-19 cases today, August 13, falling 487 cases against the previous day.
Of the new cases, 30 were imported and 9,150 were domestic infections recorded in 39 provinces and cities.
HCMC still suffers the biggest caseload, at 3,531, while its adjacent provinces of Binh Duong, Dong Nai, Long An reported 2,186, 808, and 623 cases, respectively. The rest were detected in 35 other localities across Vietnam.
Overall, the country's total number of new domestic cases today dipped 503. HCMC as the biggest coronavirus hotspot saw a decrease of 301 cases; Binh Duong and Dong Nai recorded a decline of 212 and 263 cases, respectively. Meanwhile, the capital city of Hanoi over the past 24 hours had 97 fresh locally-infected cases, up 19 cases day-on-day.
According to the Health Ministry, more than 3,500 coronavirus patients were declared free of the coronavirus on the same day, while 275 more Covid-19 deaths were reported, sending the country's Covid-19 death toll to 5,088 cases as of now.
A report released by the ministry today showed that more than 152,500 Covid-19 patients are receiving treatment at local medical facilities nationwide. Of them, over 3,700 patients are critically-ill, with 20 having to rely on ECMO support.
The northern mountainous province of Cao Bang remains the only locality free of the virus in the country.
In related news, the Mekong Delta city of Can Tho set up 320 teams, including 314 official teams and six backup teams, to collect samples and conduct rapid Covid-19 tests for residents in nine districts in nine days. Each team has a minimum of six members, with four coming from local medical schools and two being local competent forces.
As for the southern province of Binh Duong, it has set up another Covid-19 field hospital with 437 ICU beds at the Becamex International General Hospital in Thuan An City.
TAG: