HCMC to establish five field satellite emergency stations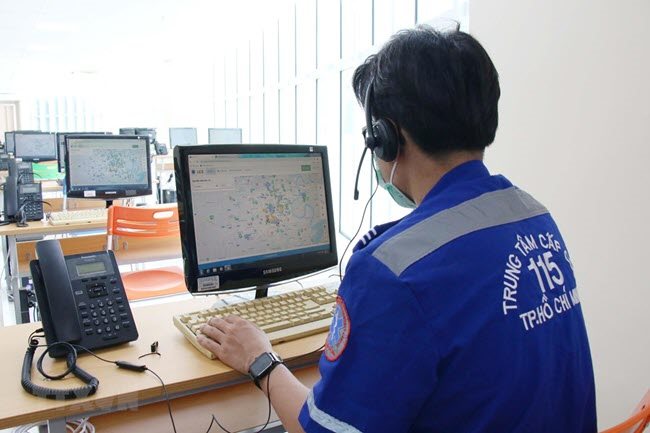 An emergency dispatcher of the 115 Emergency Call Center is at work. HCMC Vice Chairman Duong Anh Duc approved a decision to set up five field satellite emergency stations in the districts of 11, 12, Binh Tan, Binh Chanh and Thu Duc City – PHOTO: VNA
HCMC – HCMC Vice Chairman Duong Anh Duc has issued a decision to set up five field satellite emergency stations in the districts of 11, 12, Binh Tan, Binh Chanh and Thu Duc City, to offer emergency assistance to patients, especially those infected with Covid-19.
The decision took effect on August 11. Each station will be equipped with 20 ambulances and 280 medical workers and other staff in other fields.
These field stations operate by converting passenger transport vehicles operated by Futa Bus Lines and the Mai Linh Corporation into ambulances. The stations are also managed by the HCMC anti-Covid-19 steering committee and the 115 Emergency Center, and receive expertise from the municipal Department of Health.
Local hospitals and medical facilities in the city have to assign their employees to serve the operations of the stations.
The authorities of Thu Duc City and districts where these field stations are located have to hand over infrastructure facilities and create favorable conditions for the stations to offer the satellite emergency service.
Besides this, the HCMC Department of Labor, Invalids and Social Affairs was told to suggest to the HCMC government a plan to pay the salaries of the Futa Bus Lines and Mai Linh Corporation employees that work at these field stations. Meanwhile, the city's departments of Finance and Health were required to suggest a plan on the operation costs for the stations.
TAG: