Binh Duong asks for 1 million more Covid vaccine doses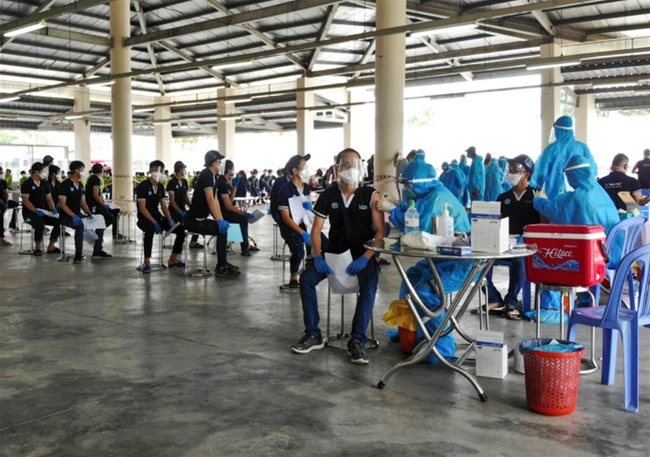 Workers at an industrial park in Binh Duong Province get vaccinated. The Binh Duong government has written to Prime Minister Pham Minh Chinh and the Ministry of Health proposing an additional allocation of one million Covid-19 vaccine doses - PHOTO: PLO
HCMC - The Binh Duong government has written to Prime Minister Pham Minh Chinh and the Ministry of Health proposing an additional allocation of one million Covid-19 vaccine doses as the province, which is the country's second largest coronavirus hotbed after HCMC, has run out of the vaccine.
The province also committed to using the one million doses within 10 days, while ensuring safety during the vaccination process, the local media reported.
The provincial government expects the vaccination to help the province bring the Covid-19 pandemic under control before September 1.
After the ministry allocated some 570,000 doses to Binh Duong Province, the province quickly sent 420,000 doses to its districts and 150,000 to industrial parks to start the vaccination drive, according to the provincial anti-virus steering committee.
Until now, all the doses have been administered, while many communes and wards must stop the inoculation due to the vaccine shortage.
As of August 11, the southern province had reported over 34,000 Covid-19 cases and more than 220 deaths in the latest wave of coronavirus. The number of infections is expected to continue rising in the coming days.
Therefore, the province, which has over two million people, needs more doses to reach herd immunity as soon as possible.
According to the Government's Resolution 86 on urgent solutions to fight the Covid-19 pandemic issued on August 10, the Ministry of Health must prioritize localities with a high number of Covid-19 cases and deaths, fast community spread and many industrial parks while allocating the Covid-19 vaccines.
TAG: