Two locals detained for illegally breeding tigers in Nghe An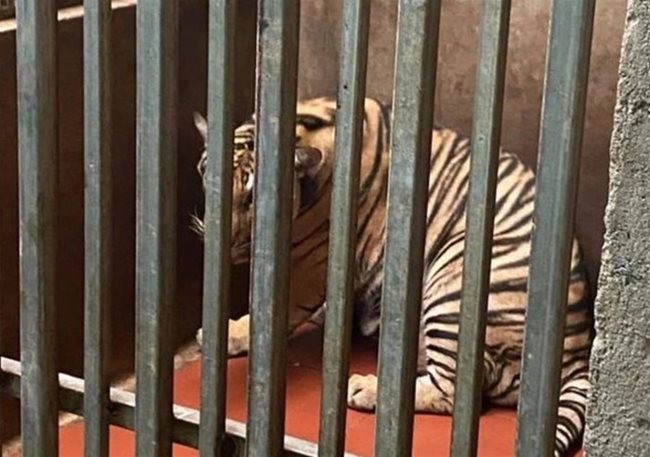 One of the 17 tigers that was found illegally raised in captivity in the north central province of Nghe An - PHOTO: VNA
HCMC - Two local residents in Yen Thanh District, Nghe An Province, have been detained for breeding 17 tigers in captivity, the People's Procuracy of the province announced this afternoon, August 11.
Police officers of Yen Thanh District found 14 Indochinese tigers in Nguyen Van Hien's basement, each weighing 200-265 kilograms, on August 4. They also seized three tigers raised in Nguyen Thi Dinh's basement.
Hien and Dinh said they built the basements specifically to raise these tigers. Each basement covers 80-120 square meters and is equipped with separated metal cages.
According to Dinh, the tigers were transported from Laos to Vietnam as cubs and they had been kept in the basements for months.
Nguyen Duc Hai, deputy director of the Nghe An Police, said raising endangered wild animals violates clause 3, article 244 of the Penal Code. Those raising, hunting or slaughtering six tigers or more can be sentenced to 10-15 years in prison.
According to the World Wide Fund For Nature (WWF), there are an estimated over 8,000 tigers in more than 300 captive facilities across Asia, with an estimated 300 captive tigers in Vietnam.
"WWF congratulates the authorities of Nghe An Province for these seizures. These actions demonstrate a strong commitment to combat the illegal trafficking of tiger products. We encourage these efforts to continue with strong prosecution, with the arrested criminals now facing a potential maximum sentence of 15 years in prison," said Benjamin Rawson, Conservation and Program Development director at WWF Vietnam.
The 17 rescued tigers were sedated and taken to the Muong Thanh Dien Lam Ecological Area in Dien Chau District for health checkups. However, eight of them died for unknown reasons.
The Nghe An Environmental Police Department said the bodies of the dead tigers have been frozen for a further investigation.
Nguyen Van Thai, director of the Save Vietnam's Wildlife, said that the death of the tigers during the rescue process was an unexpected incident. The most important thing in wildlife protection is to arrest the wildlife traffickers and those who raise wild animals in captivity.
According to Thai, the rescued tigers cannot be released back into nature because they have been kept in captivity for a long time, affecting their ability to hunt and survive in the wild.
WWF recommended that there be an immediate moratorium on breeding tigers in captivity that do not contribute to conservation efforts and that these tiger farms be phased out in line with international commitments under the Convention on International Trade in Endangered Species of Wild Fauna and Flora.
In the meantime, an audit of all tigers in facilities that currently exist is essential, including the identification of all individual tigers by microchipping, collecting their genetic information and photographing their unique stripe patterns for consolidation in a central database. This way, tigers that end up in the trade can be compared against the database to find their source and ensure that tiger facilities are not feeding the demand for illegal tiger parts.
WWF also recommended the creation of clear protocols for managing seized live tigers in Vietnam, including moving animals to secure and reputable rescue centers, taking individual identification features to allow for comparison with existing data, and conducting ongoing monitoring to ensure that these tigers do not slip back into the illegal market.
Indochinese tigers are listed as endangered on the International Union for Conservation of Nature's Red List. Their population is threatened by poaching for illegal wildlife trade, as some people believe their bones can be used to make traditional medicine to treat certain illnesses.
TAG: