Over 8 million Covid-19 vaccine doses administered nationwide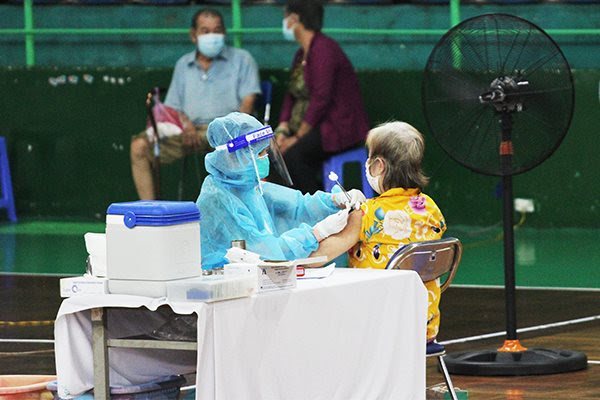 A woman gets a shot of the Covid-19 vaccine. As of August 6, over eight million doses of Covid-19 vaccines had been administered in Vietnam - PHOTO: LE VU
HCMC - Over eight million doses of the Covid-19 vaccine have been administered in Vietnam as of August 6, with some 507,800 doses given on August 5 alone.
HCMC has recorded the highest number of administered doses at over two million, followed by Hanoi City with some 1.2 million.
To speed up the nation's vaccination process, the prime minister has ordered provinces and cities to set up more vaccination sites and prepare cold storage facilities for Covid-19 vaccines.
The Government leader on August 5 issued a telegram asking ministries and provincial and municipal governments to strengthen anti-virus measures and set up more fixed and mobile vaccination sites to ensure the safety and effectiveness of vaccination.
It is necessary to promptly inoculate medical workers, frontline workers, elderly people and those who suffer from underlying health conditions, according to the telegram.
To ensure safety and facilitate the circulation of goods, Deputy Prime Minister Vu Duc Dam, head of the national anti-Covid-19 steering committee, has asked the Ministry of Health to consider the Transport Ministry's proposal to prioritize vaccination for drivers and delivery workers.
As the vaccination process remained slow in many localities, the Ministry of Health has decided to prioritize the allocation of Covid-19 vaccine doses for provinces and cities that conduct vaccination faster.
TAG: