Hanoi extends social distancing measures by two more weeks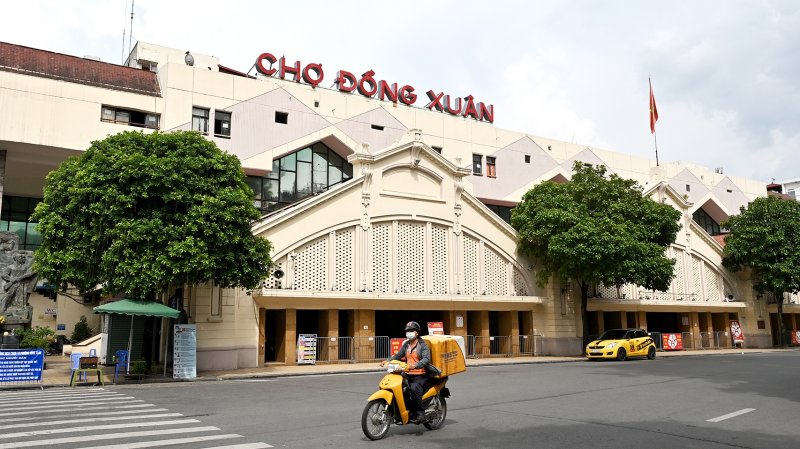 The normally busy Dong Xuan Market is deserted during the social distancing period.   
NDO - The Hanoi authorities have decided to extend social distancing measures by a further two weeks, until August 23, as the COVID-19 situation remains tense in the capital city.
The city began to impose strict measures as outlined in the Prime Minister's Decree 16 from July 24 to contain the spread of the coronavirus from July 24, and such measures were due to expire on August 7.
According to the municipal government, the situation remains under control but there are high risks as many large clusters have emerged in recent days with many cases having no known links to other cases.
The number of people reporting cough and fever is also growing, raising the risk of more community infections in the coming days.
Hanoi recorded nearly 1,600 cases of COVID-19 since April 29, according to the city's Centre for Disease Control as of noon on August 6.
* On August 6, the Ministry of Defence (MOD) dispatched an additional 100 medical staff to work at the 5D Field Hospital to treat COVID-19 patients in Ho Chi Minh City and Binh Duong Province.
Earlier, on August 1, the MOD's Department of Logistics deployed 130 health workers to set up the 5D Field Hospital with 500 beds at the Ho Chi Minh City National University dormitory in Binh Duong.
With the additional staff, the capacity of the hospital will be doubled to 1,000 beds.
5D is one of seven field hospitals set up by the MOD in southern provinces and cities with the capacity to receive and treat 3,500 patients, and can be expanded to accommodate up to 10,000 patients.
TAG: