Hanoi proposes requisitioning coach stations, stadiums as goods transshipment points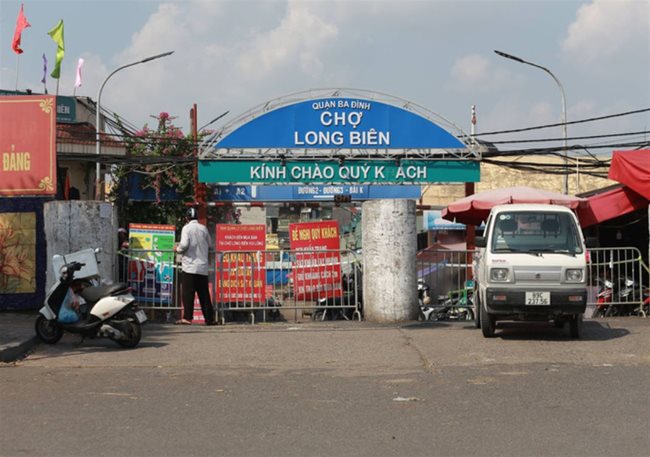 Long Bien Wholesale Market, Hanoi's largest wholesale market, is suspended due to fears over the spread of Covid-19. Due to the suspension of several wholesale markets and supermarkets, the Hanoi Department of Agriculture and Rural Development has proposed requisitioning some coach stations and stadiums as transshipment points for farm produce and essential goods - PHOTO: NLDO
HCMC - Due to the suspension of several wholesale markets and supermarkets which are linked to Covid-19 cases, the Hanoi Department of Agriculture and Rural Development has proposed requisitioning some coach stations and stadiums as transshipment points for farm produce and essential goods.
The city has shut or locked down three wholesale markets, Den Lu, Long Bien and Minh Khai, 20 wet markets and 52 supermarkets and convenience stores after they were found to be linked to positive Covid-19 cases, so many residents are finding it difficult to access food and necessities, according to the department.
As such, the municipal department proposed requisitioning the Yen Nghia Coach Station in Ha Dong District, stadiums in Thanh Tri and Hoai Duc districts and other venues in Gia Lam District as goods transshipment points.
Besides, the municipal department also proposed the Hanoi government ask for approval from the Ministry of Agriculture and Rural Development to allow the city to use the Trade Promotion Center for Agriculture in Cau Giay District as another transshipment point for goods transported from neighboring provinces and cities.
In addition, the Hanoi Department of Industry and Trade was also asked to prepare stocks of foods and essential products from other provinces to meet the demands of residents, the local media reported.
The municipal Department of Agriculture and Rural Development also proposed the Hanoi Transport Department issue effective solutions to facilitate the transportation and circulation of food, essential goods and farm produce.
TAG: