First Secretary of HCYU Central Committee presents gifts to frontline forces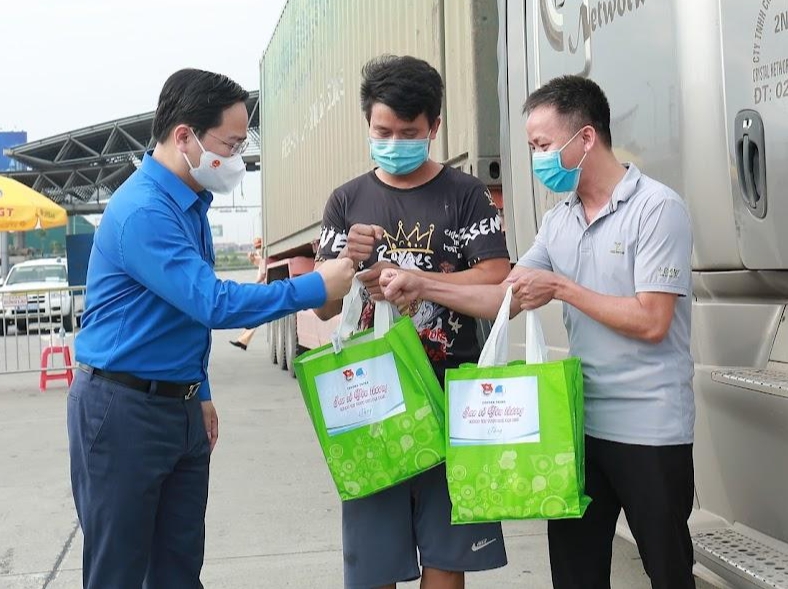 First Secretary of the HCYU Central Committee Nguyen Anh Tuan presents gifts to long-distance drivers at Phap Van - Cau Gie checkpoint. (Credit: Bao Anh)   
NDO - First Secretary of the Ho Chi Minh Communist Youth Union (HCYU) Central Committee Nguyen Anh Tuan visited and presented gifts to frontline forces and volunteers on duty at pandemic checkpoints in gateways to Hanoi on August 2.
He visited and encouraged volunteers, officials, soldiers, and medical forces on duty at checkpoints to control the COVID-19 pandemic at Phap Van – Cau Gie in Thanh Tri district and Khe Hoi in Thuong Tin district.
Tuan expressed his wish that the forces will continue to overcome difficulties and use to the full their determination to fulfil the tasks assigned them.
According to the First Secretary, the HCYU Central Committee is currently coordinating with the Ministry of Health to deploy a volunteer team to work at 38 checkpoints along National Highway 1A and North-South highways in 19 provinces.
The volunteers will help with providing necessities, medical masks, and antiseptic solutions for local people and coordinate with the relevant units on taking rapid testing for drivers to ensure circulation through the checkpoints.
On this occasion, the HCYU Central Committee presented four boxes of medical masks (2,000 masks) and 50 boxes of energy drinks to the forces working at the checkpoints and 1,500 gifts for long-distance drivers.
TAG: