Southern localities extend social distancing by two weeks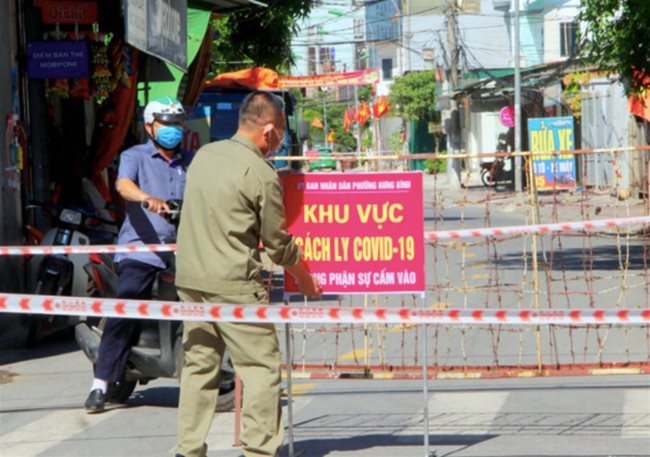 An area is put under quarantine due to Covid-19 infections - PHOTO: MINISTRY OF HEALTH
HCMC - The Government has asked HCMC and 18 other southern localities to extend social distancing under the prime minister's Directive No. 16 by 14 more days amid the rising number of Covid-19 cases.
The first social distancing order for the entire southern region, which is home to some 35 million people, was set to expire on August 1, but the fourth wave of Covid-19 is still developing very complicatedly in the region.
The prime minister asked southern localities to continue to strictly comply with Directive No. 16 and be ready to roll out more stringent measures if necessary.
Most southern localities, such as HCMC, Binh Duong and Dong Nai, ask the people not to leave their neighborhood from July 31 and not to go outside at night until the social distancing order is lifted.
The local authorities must step up their information campaign and take immediately necessary measures to ensure the livelihoods of and healthcare for the residents.
Leaders of provinces and cities will be fully responsible if they let people travel out of their localities on their own.
For people who have already left one province for another, the related provinces must organize the pick-up and drop-off sites to ensure safety and arrange testing, transportation and medical supervision for them.
The Ministry of Public Security is responsible for consulting the local authorities in the transportation and routes.
In case social distancing measures are effective and the Covid-19 situation is under control, provincial and municipal authorities could consider lifting restrictions for certain areas under their jurisdiction.
The prime minister's Directive 16 requires the people to refrain from going out except for urgent purposes. They must strictly follow anti-virus measures and make health declarations.
The governments of wards, communes and towns must set up monitoring teams to work round the clock. These teams are in charge of imposing harsh sanctions on violators and administrative fines on those who go out for non-essential reasons.
Businesses are asked to allow their employees to work from home, with a few exceptions such as those on duty or in special circumstances.
TAG: