Hanoi hospitals help set up ICU centres in Ho Chi Minh City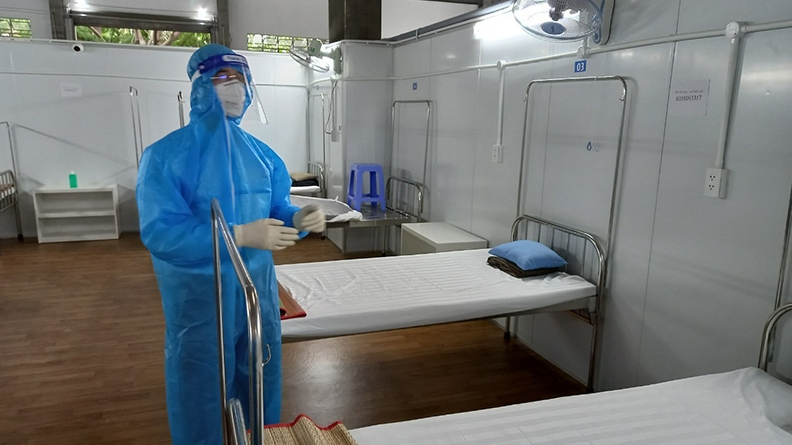 Professor Nguyen Quang Tuan inspects Field Hospital no. 16 in District 7, Ho Chi Minh City.   
NDO - Experts from Bach Mai Hospital and Viet Duc Hospital in Hanoi are helping with the set-up of ICU centres at two field hospitals in Ho Chi Minh City for the treatment of severe COVID-19 patients.
On July 31, Professor Nguyen Quang Tuan, Director of Bach Mai Hospital, inspected Field Hospital no. 16 in District 7, where an ICU centre with 500 beds will be set up over the next few days.
He said that more medical workers and equipment of Bach Mai Hospital will be deployed to the field hospital, which will also be staffed by personnel from Vinh Phuc Province and Hung Vuong Hospital in Ho Chi Minh City.
At the same time, work is also under way at Field Hospital no. 13 in Binh Chanh District, where 3,500 beds will be installed, with the first 1,000 beds to be completed on August 15.
The field hospital will also have 500 ICU beds, including at least 100 beds equipped with ventilators and 100 beds with high flow oxygen systems.
Professor Tran Binh Giang, Director of Viet Duc Hospital, will be in charge of running Field Hospital no. 13.
He said that in order to soon put the hospital into operation it needs more logistical support from the city, and that Viet Duc Hospital will send the best ICU doctors and nurses to work at the field hospital.
On the morning of July 31, the Ministry of Health reported an additional 4,060 new COVID-19 cases, including 2,503 in Ho Chi Minh City, raising the total number of infections in Vietnam to 141,122.
In the central city of Da Nang, the authorities have decided to impose stricter prevention measures starting from 6pm on July 31 following a rapid rise in the number of cases. On July 30, the city recorded 68 cases.
Under new measures, movement within the city and some activities will be restricted during certain hours, and all business facilities are required to close unless they are providing essential goods and services.
In the neighbouring province of Quang Nam, social distancing measures have also been put in place in the ancient town of Hoi An.
Checkpoints are set up at the city's entrances and exits, and local residents are required not to leave the city to prevent the spread of the virus. The city has recorded 28 cases over the past week.
TAG: