HCMC to have three more intensive care centers for Covid treatment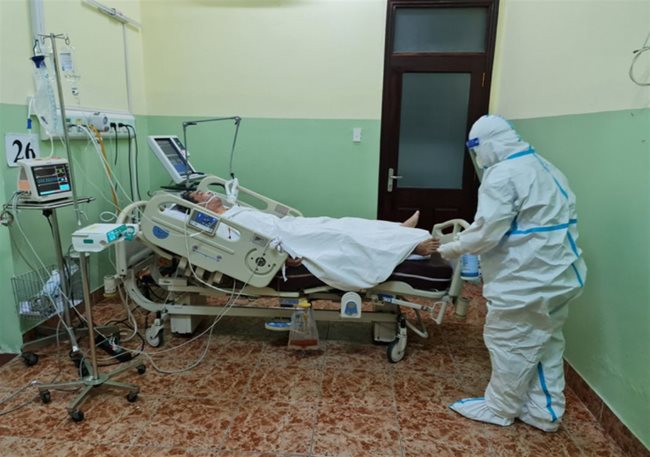 A doctor takes care of a Covid-19 patient. The Ministry of Health has assigned three central hospitals to promptly set up three intensive care centers for Covid-19 treatment in HCMC - PHOTO: NLDO
HCMC - The Ministry of Health has assigned three central hospitals to promptly set up three intensive care centers for Covid-19 treatment in HCMC, with a combined capacity of 1,500 beds.
Speaking at a meeting with the HCMC government today, July 29, Health Minister Nguyen Thanh Long said that the top priority in the fight against Covid-19 in the city was focusing on treatment for severely-ill patients and reducing the Covid-19 death rate.
Apart from dispatching medical workers and anti-virus forces to HCMC to help the city fight the pandemic, the ministry has mobilized heads of relevant departments and directors of several central hospitals such as Viet-Duc, Hue Central, Bach Mai, K, E, National Lung and Huu Nghi to travel to the city to treat Covid-19 patients.
Accordingly, Viet-Duc Hospital in Hanoi City was tasked with establishing an intensive care center in Thu Duc City, with 500 beds. The national hospital for tropical diseases will help the Viet-Duc Hospital with Covid-19 treatment for critical patients.
Besides, Bach Mai Hospital will be responsible for another intensive care center at the Field Hospital No. 16, with a capacity of 500 beds. The hospital will send medical experts and highly-skilled doctors to the center.
The Hue Central Hospital will be in charge of setting up the third intensive care center with 500 beds at the Field Hospital No. 13.
The directors of the three hospitals will serve as directors of these Covid-19 intensive care centers, according to the minister.
In addition, directors of the National Lung Hospital, the Central Hospital for Geriatrics, E and K hospitals were told to prepare for jointly setting up another center if required.
HCMC now has an intensive care center at the Cho Ray Hospital with 1,000 beds, the local media reported.
TAG: