Provinces given leeway to take more aggressive anti-Covid measures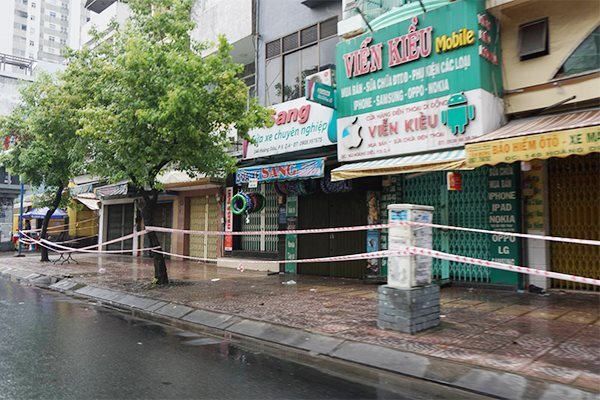 An area in HCMC is locked down to curb the spread of Covid-19. Provincial authorities are allowed to take stronger anti-Covid measures based on their situation - PHOTO: MINH DUY
HCMC - The central Government has allowed the Covid-19-hit provinces to take anti-virus measures that are more aggressive than what they are doing at the moment to slow the spread of the disease, according to Resolution No. 78 issued on July 20.
The Covid-19 pandemic is still spreading in many parts of the country, especially in HCMC, so the prime minister has told 19 southern cities and provinces to impose social distancing in line with Directive No. 16 to stop the spread of the virus, the Government stated in the resolution.
However, there remain hiccups in the process of implementing anti-virus measures, especially in the transportation of goods between the cities and provinces where the stay-at-home orders are in force, causing a shortage of food and other necessities in some areas.
Besides, some people have not strictly complied with the stay-at-home orders while the collaboration between some provinces in the pandemic battle remains poor.
Therefore, the Government required these cities and provinces to ensure the strict enforcement of Covid containment measures.
Based on their own situation, the local authorities can consider taking additional measures that are stricter than the regulations of Directive No. 16. "The local authorities should further enforce social distancing," stated the resolution.
Ministries, departments and localities should work together to ensure the smooth transportation of goods, preventing the shortage of necessities in areas on lockdown.
The local authorities are prohibited from introducing any new regulations that hinder the interprovincial transportation of goods.
The Government has decided to establish a special anti-Covid team in HCMC. The team is under the national steering committee for Covid-19 infection prevention and control, and responsible for resolving urgent issues related to the Covid fight in HCMC and the 18 other southern provinces.
The Deputy Minister of National Defense has been appointed as leader of the team, while the Deputy Ministers of Health and Public Security as vice leaders.
The team also comprises HCMC chairman and vice heads of other ministries such as Agriculture-Rural Development, Information-Communications, Labor-Invalids-Social Affairs, Construction, Industry-Trade, and Transport.
In the resolution, the Government also assigned specific tasks to leaders of ministries.
The Minister of Health must ensure sufficient medical equipment supplies for Covid-19 treatment facilities and quarantine centers, while the Minister of Transport is in charge of ensuring the smooth transportation of goods.
Besides, the Government asked the Minister of Industry and Trade to work with the Minister of Agriculture and Rural Development to ensure sufficient supplies of essential goods for the residents.
Meanwhile, the Minister of Foreign Affairs is tasked with collaborating with the Ministry of Health and relevant agencies to accelerate the purchase of Covid-19 vaccines.
TAG: