Residents in border areas get vaccinated against COVID-19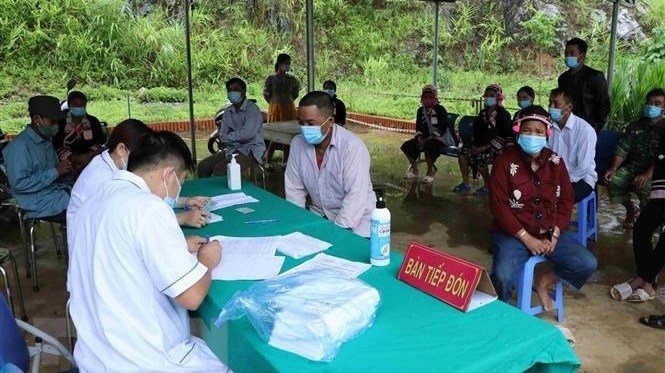 People in the border commune of Huoi Luong begin to receive the COVID-19 vaccine. (Photo: VNA)   
NDO/VNA - The northern province of Lai Chau on July 19 started to give Vero Cell COVID-19 vaccine shots to residents in border communes in Phong Tho district.
Seven vaccination facilities have been set up, one at provincial level and six in health care stations in border communes of Si Lo Lau, Pa Vay Su, Vang Ma Chai, Mu Sang, Ma Ly Pho and Huoi Luong.
Residents in 22 villages of those communes will receive the first shot from July 19-24, while the second shot will be administered from August 9-14. A total 2,500 vaccine doses are scheduled to be delivered.
According to head of the health care station of Huoi Luong commune Lo Van Tiep, in the first phase, 500 locals in border villages of Huoi Luong will receive the first vaccine shot.
All safety procedures have been strictly implemented throughout the vaccination process, he said.
Along with frontline forces, Lai Chau has expanded vaccination to larger groups. So far, the province has finished two phases of COVID-19 vaccination with nearly 20,000 doses delivered.
TAG: