Community initiatives to help Ho Chi Minh City people overcome pandemic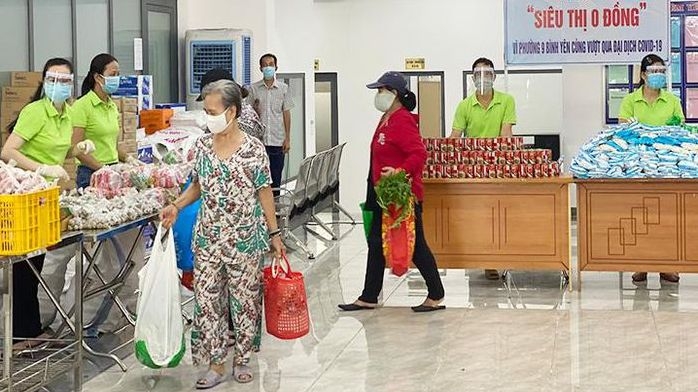 People in ward 9, Phu Nhan district go shopping at the 'Zero VND minimarket'.   
NDO – Many community indicatives have been launched to support disadvantaged people in Ho Chi Minh City, which is suffering a major COVID-19 outbreak.
A 'Zero VND minimarket' was recently launched in ward 9, Phu Nhan district providing local households with free essential commodities during the city's social distancing period. Nearly 170 tickets have been delivered to needy families in three residential areas in the ward, with residents in each area coming to shop in a specific timeframe in order to ensure safe distance and avoid large public gatherings.
Vu Thi Ky, a local resident, said that the minimarket is loaded with all the necessary items from vegetables, fruits to milk, eggs, rice, and essential items. Each needy household is also presented with VND200,000 in cash.
"As COVID-19 has made me become jobless, the minimarket and support from the local authorities have helped to relieve my concerns over the pandemic," Ky said.
The 'Zero VND minimarket' and 'Rice ATM machine' models have become popular in many wards and townships in Ho Chi Minh City, providing timely support for people whose livelihoods are being affected by the pandemic.
Many other effective models have been launched to help underprivileged people. For instance, the Youth Union of district 1 created a network of 'shopping assistants' to help the elderly and disadvantaged people get groceries during the pandemic.
The network was launched in 2020 when Ho Chi Minh City imposed its social distancing policy for the first time, during which senior citizens aged 65 and above were advised not to go outside.
Now the network has once again restarted as the city has witnessed an even more complicated development of COVID-19. During this year's implementation, needy people can register for support through Gobus-go away Covid application, Fanpage of the district's youth union, or via the hotline at 028 3825 1861.
Tran Ngoc Tri, one of the 30 youth volunteers participating in the network, shared that every time he saw the smiling eyes and heard the appreciative words of the people, he felt happiness in his heart because he has done something useful for the community in these difficult days.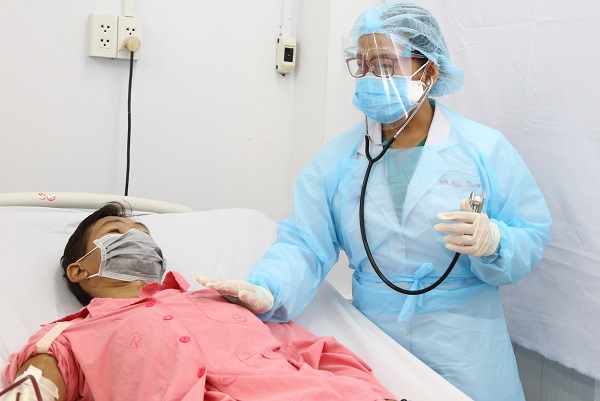 Retired doctor Nguyen Thi Kim Tung volunteered to return to work, following her heart to join hands with her colleagues to save people's lives during this difficult period of time. (Photo: thanhnien.vn)
Another successful charity voluntary project is the launch of a community refrigerator in Binh Thanh district. Community refrigerators have been set up in many countries around the world. Accordingly, old fridges are placed on the sidewalks by cafeterias, restaurants or places with electricity supply and good security. Anyone can put food in and take food out. The model is seen as a mini food bank run by the community.
When the project came to Vietnam, it was launched at No. 100 Ung Van Khiem Street, Binh Thanh District by non-profit organisation Foodbank Vietnam, C.P Vietnam Charitable Assistance Fund, and Food Share Social Enterprise Joint Stock Company. The fridge has provided tonnes of fresh vegetables and fruit to needy people from both inside and outside the district.
Since COVID-19 broke out in Vietnam, Foodbank Vietnam has coordinated with food providers and restaurants to provide thousands of free lunches every day for disadvantaged workers in Ho Chi Minh City. The organisation has also provided food and medical equipment to units working on the front line against the pandemic.
These days, thousands of volunteer doctors, nurses and medical workers have gone to Ho Chi Minh city to help the southern hub overcome the pandemic. The COVID-19 fight has also attracted the enthusiastic participation from veterans and retired "white blouse" soldiers, including doctor Nguyen Thi Kim Tung.
One year after her retirement at the Division of Artificial Kidney of Cho Ray hospital, Tung volunteered to return to work, following her heart to join hands with her colleagues to save people's lives during this difficult period of time. Her decision was approved with appreciation from the hospital's leaders.
In addition to providing health check-ups for patients, Tung also provides guidance for patients to protect themselves against the risks of COVID-19 infection while helping them remain optimistic and think positive to overcome their situation.
TAG: