Protecting children amidst COVID-19 pandemic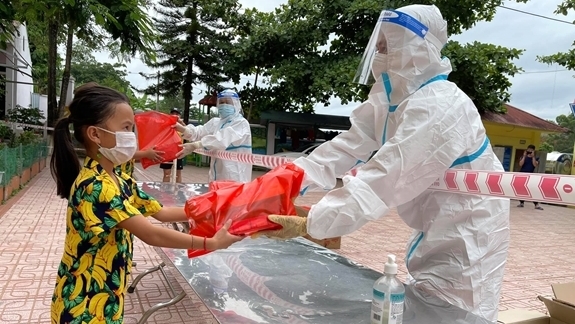 A girl in a concentrated quarantine site in Nam Po district, Dien Bien province receives presents on the occasion of International Children's Day 2021. (Photo: qdnd.vn)   
NDO – Action Month for Children 2021 took place in the context of the whole country intensifying all efforts to fight the COVID-19 pandemic. Therefore, this year's event was launched with the theme 'Joining hands for ensuring children's rights and protecting children in natural disasters and pandemic' in order to raise awareness about children's rights, child protection, and the provision of support for children amidst the COVID-19 pandemic.
Currently, COVID-19 has seen complicated developments. In some localities, many children are in concentrated quarantine areas, away from their families and parents. Thus, they face risks not only of disease transmission but also of trauma and emotional crisis.
According to the Minister of Labour, Invalid and Social Affairs, more than 4,000 children are in concentrated quarantine areas across the country, accounting for about 6% of the total number of people in the areas. The number could increase as more SARS-CoV-2 infections are reported, particularly those in industrial zones, he said.
In addition, the number of children who have been injured and lost their lives due to incidents and drowning increases every summer.
Following the Prime Minister's directions on prevention and control of COVID-19 and prevention of drowning accidents among children, ministries, sectors, and local authorities have actively and promptly implemented drastic solutions to protect children and minimise the risks of disease transmission and injury prevention on children.
On May 29, Minister of Labour, War Invalids and Social Affairs issued a decision on providing financial support for children infected with COVID-19 or placed in concentrated quarantined areas. Accordingly, every child up to the age of 16 in COVID-19 concentrated areas is provided with VND80,000 (US$3.48) per day for daily meals during their 21-day quarantine.
The financial support comes from the National Fund for Vietnamese Children and will be given to children quarantined from April 27 onwards. The support is expected to be offered until the end of this year.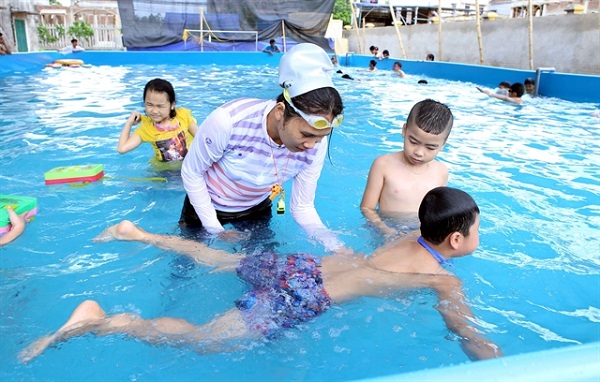 Teaching children how to swim for drowning prevention in the northern province of Hung Yen. (Photo: VNA)
The Ministry also issued a dispatch on June 1, requiring authorities of provinces and centrally run cities nationwide to strengthen the protection and care for children amidst the COVID-19 pandemic and step up measures to prevent children from suffering drowning accidents, especially during the summer.
Localities are asked to mobilise available resources and participation from organisations, businesses and individuals in the protection and care of children so that no child has to live in difficult circumstances due to the pandemic.
Functional branches and agencies in localities need to take strengthened measures to protect and care for children from coronavirus, and prevent child abuse in families, communities, nurturing facilities, industrial parks, and areas where social distancing is implemented. Communication campaigns should also be stepped up to popularise knowledge and skills on childcare amidst the threats of the pandemic and child drowning prevention.
The local Departments of Labor, Invalids and Social Affairs need to coordinate with the National Hotline 111 on Child Protection to organise online consultations and training for students, teachers, and parents at concentrated quarantine areas about early detection and handling of psychological impact trauma during COVID-19 quarantine.
Meanwhile, youth unions, mass organisations, social organisations, and educational institutions in localities should increase their responsibilities in supervising and ensuring the safety of children.
Raising the capacity of swimming teachers and lifeguards is also needed to help children learn how to swim and protect themselves in the water.
TAG: