Defence diplomacy carried out proactively, flexibly, effectively: conference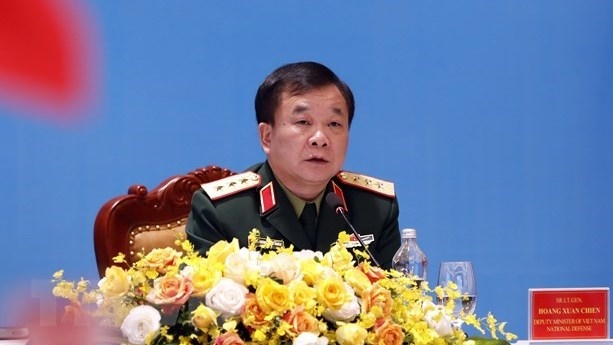 Deputy Minister of National Defence Sen. Lt. Gen. Hoang Xuan Chien    
NDO/VNA – Bilateral and multilateral defence diplomacy has been carried out in a proactive, flexible, creative, effective, and substantive manner, continuing to serve as one of the pillars in Vietnam's diplomacy and help raise the country's role, stature, and prestige in the world.
The assessment was made at a teleconference held by the Ministry of National Defence on July 15 to review international defence integration and defence diplomacy in the first half of 2021.
A report at the event noted that during the reviewed period, the Central Military Commission and the Defence Ministry directed international defence integration and defence diplomacy in line with the Party and State's foreign policy.
Notably, cooperation with foreign partners have been promoted in fighting COVID-19, discussing the possibility of transferring COVID-19 vaccine production technology, and sending military personnel to overseas training courses. Besides, defence diplomacy communications have been conducted effectively and in conformity with the Party and State's principles, viewpoints, guidelines, and policies.
Applauding relevant agencies and units' achievements in international integration and defence diplomacy, Deputy Minister of National Defence Sen. Lt. Gen. Hoang Xuan Chien asked them to uphold the attainments and address difficulties caused by the pandemic to fulfil tasks in the last six months of the year.
He told the border guard, naval, and coast guard forces to proactively boost coordination in border management and protection with their counterparts of neighbouring countries while pairing more Vietnamese communities and forces in border areas with the neighbours' peers.
Chien requested all-round preparations for participating in the Army Games 2021, promotion of the signing of international defence agreements and treaties, along with the enhancement of international cooperation in defence industry, military technique, military medicine, search and rescue, non-traditional security, and COVID-19 combat.
Relevant agencies and units also need to maintain and consider expanding Vietnam's participation in activities of the UN peacekeeping missions in South Sudan and the Central African Republic, and at the UN headquarters. They should continue working to prepare for Vietnamese engineers to take part in peacekeeping operations, deploy Level-2 Field Hospital No 4 and military police personnel, and build the national coordination centre for UN peacekeeping, according to the Deputy Minister.
TAG: