National Assembly Chairman hosts Philippine Ambassador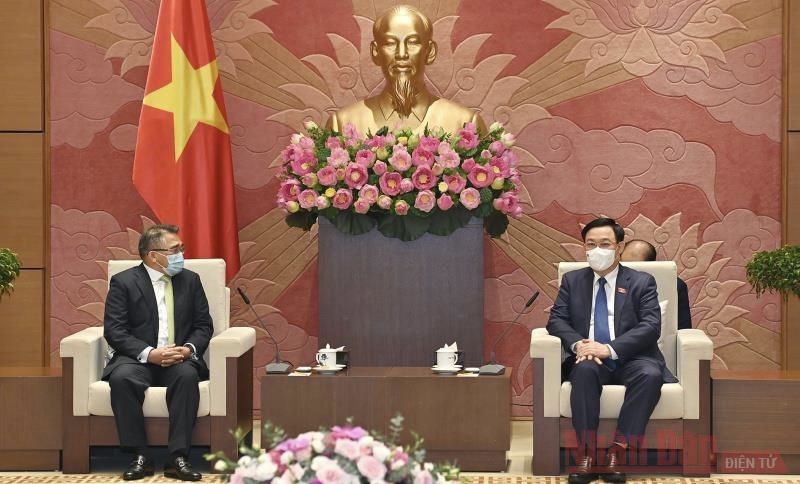 National Assembly Chairman Vuong Dinh Hue (R) meets Philippine Ambassador Meynardo Los Banos Montealegre (Photo: NDO/Duy Linh)   
NDO/VNA – National Assembly (NA) Chairman Vuong Dinh Hue received Philippine Ambassador Meynardo Los Banos Montealegre in Hanoi on July 14.
At the reception, the top legislator asked the ambassador, during his term of office, to coordinate in promoting the implementation of cooperation focuses between the National Assembly of Vietnam and the Philippine Senate and House of Representatives, towards considering signing a cooperation agreement between the two parliaments.
First of all, the two sides should well implement the Action Plan for the 2019-2024 period, he said, stressing that the two countries need to strengthen dialogue and consultation as well as support each other's views on the East Sea/South China Sea issue in accordance with the Association of Southeast Asian Nations (ASEAN)'s agreed principles.
Vietnam and the Philippines should fully and effectively implement the Declaration on the Conduct of Parties in the East Sea (DOC) and closely coordinate in negotiations for a Code of Conduct (COC) in the waters on the basis of respect for international law, especially the 1982 United Nations Convention on the Law of the Sea (UNCLOS 1982), he noted.
For his part, the Philippine ambassador said that the two countries need to find solutions to promote bilateral trade relations and soon sign a memorandum of understanding on trade cooperation.
Vietnam is a major trade partner of the Philippines, he said, thanking Vietnam for committing regular and stable rice supply to the Philippines, making an important contribution to ensuring the country's food security.
Regarding maritime security and safety in the East Sea, the Philippine diplomat applauded Vietnam for always complying with international law, especially the UNCLOS 1982 and the processes ASEAN is promoting such as the DOC and the COC.
TAG: