Several provinces send medical workers to HCMC to support Covid-19 fight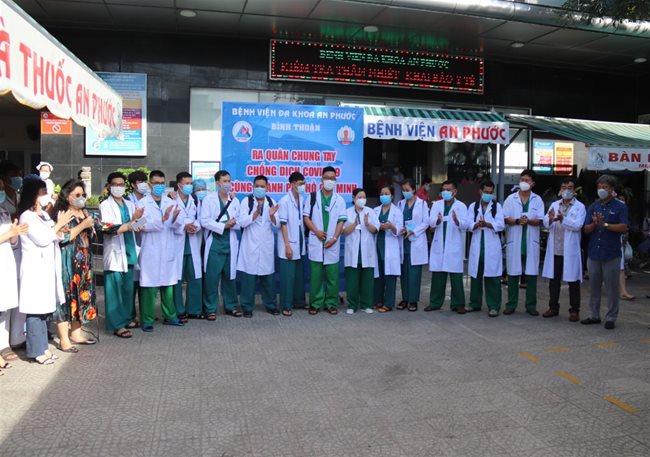 Medical workers in Binh Thuan Province pose for a group photo before departing for HCMC to help the city fight Covid-19 - PHOTO: TNO
HCMC - Several provinces across the country, including Binh Thuan, Nghe An, Thanh Hoa, Quang Nam and Quang Ninh, have dispatched medical workers to HCMC to help the city stop the raging Covid-19 from spreading.
A group of doctors at the An Phuoc General Hospital in Binh Thuan this morning, July 13, traveled to HCMC to join the city's fight against Covid-19.
Dr Phan Ngoc Hung, director of the hospital, said that following the call from the HCMC Young Physicians Association, the hospital quickly selected the best doctors and nurses and sent them to HCMC to offer support.
The group comprises eight nurses and six doctors specializing in resuscitation, infection control, interventional cardiology, hemodialysis and geriatrics. The group will be tasked with supporting healthcare centers in District 8.
On the same day, the leader of Thanh Hoa Province met with 59 doctors and nurses to praise them for their voluntary spirit of traveling to HCMC to help the city stop the uncontrollable spread of Covid-19.
These medical workers had earlier been trained for the battle against the pandemic, according to Director of the Thanh Hoa Health Department Trinh Huu Hung.
They are employees of the Thanh Hoa General Hospital, the Thanh Hoa Children's Hospital, the Nghi Son Regional General Hospital and the Endocrinology Hospital.
The group of 59 doctors and nurses will arrive in HCMC this afternoon and will stay in the city until the pandemic is brought under control.
On July 12, Nghe An Province sent 60 nurses and doctors to HCMC to help the city fight Covid-19. This is the third time the province has sent medical workers to Covid-19-hit areas to help them take samples for testing, conduct tests and treat Covid-19 patients.
Though Nghe An Province has several Covid-19 cases, many doctors and nurses at the local healthcare centers have expected to travel to HCMC, which is the country's largest coronavirus hotbed, to help it curb the spread of Covid-19 as soon as possible, said Duong Dinh Chinh, director of the Nghe An Health Department.
In addition, 39 nurses and doctors at the Quang Nam General Hospital on July 12 traveled to HCMC for the fight against the pandemic following the call from the Ministry of Health.
These medical workers were sent to the Covid-19 treatment hospital in Go Vap District, the local media reported.
Meanwhile, Quang Ninh Province yesterday held a ceremony to send off 70 medical workers to HCMC to join the Covid-19 fight.
TAG: