HCMC's local Covid-19 tally in latest outbreak exceeds 15,000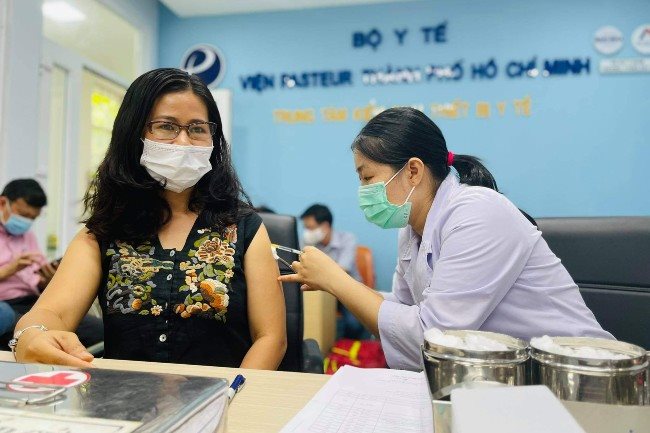 A woman is injected with the Covid-19 vaccine in HCMC, which is the country's Covid-19 epicenter at present. The city's total number of domestic Covid-19 cases in the fourth wave has risen to 15,141 after it confirmed 365 new cases this morning - PHOTO: MINISTRY OF HEALTH
HCMC - Vietnam has reported 465 new locally transmitted Covid-19 cases, sending the respective local Covid-19 tally of the country and HCMC in the latest outbreak to 29,103 and 15,141 as of this morning, July 13.
HCMC reported the biggest number of new domestic infections with 365 cases, followed by Long An with 52, Vinh Long with 23 and Dong Nai with 12. Besides, the Ministry of Health confirmed seven cases in Phu Yen, five in Tay Ninh and one in Hanoi.
HCMC also had one imported Covid-19 case, who is a man living in Thu Duc City. He returned to the country through the Moc Bai International Border Gate on July 9.
Domestic Covid-19 infections have been detected in 58 cities and provinces in the fourth Covid-19 wave beginning in late April. Nine provinces including Dien Bien, Hai Duong, Ninh Binh, Phu Tho, Quang Tri, Son La, Thai Nguyen, Tuyen Quang and Yen Bai have spent 30 days without new Covid-19 cases.
Up to now, Vietnam has vaccinated over four million people against Covid-19 and 280,367 of them have received two doses.
While the Covid-19 pandemic has been put under control in northern cities and provinces, it is spreading quickly in the South.
Minister of Health Nguyen Thanh Long has issued a letter calling on medical workers to come to HCMC and southern provinces to support them in the fight against Covid-19.
"The pandemic is developing complicatedly and unpredictably, with the number of new Covid-19 cases increasing drastically, severely affecting socioeconomic development and the people's life," he said in the letter.
The ministry has decided to mobilize some 10,000 medical workers as well as leaders of departments and institutes to help southern localities fight off the pandemic.
Besides, the ministry has asked all 62 cities and provinces to expand the home quarantine period from seven to 14 days for people returning from HCMC to prevent the pandemic from spreading widely. During the 14-day home quarantine period, the people will have to undertake Covid-19 tests three times, on the first, seventh and 13th day of the period.
TAG: