Seminar supports parents in educating their children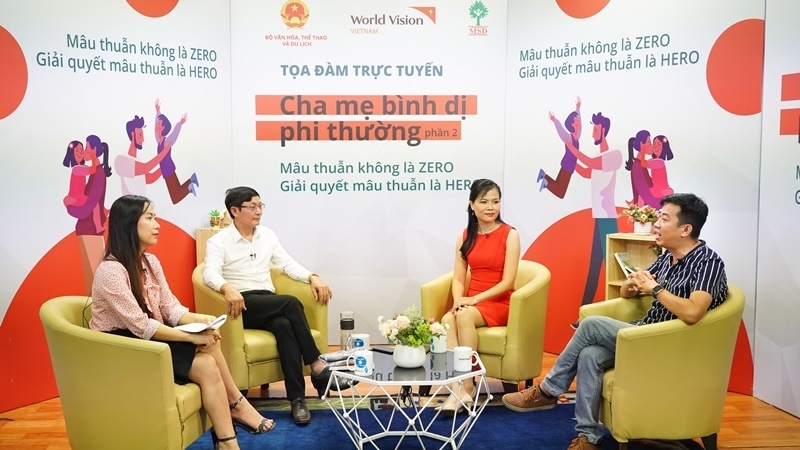 Overview of the talk.   
NDO - An online seminar focusing on sharing perspectives and ways for parents and carers to support children to behave appropriately and effectively resolve conflicts in life took place on July 7.
Co-organised by the World Vision Vietnam, in collaboration with the Ministry of Culture, Sports and Tourism and the Management and Sustainable Development Institute (MSD), the seminar is part of the campaign "It takes the World to end violence against children in families and schools" initiated by World Vision Vietnam in 2017.
"Extraordinary, Ordinary People" is an initiative to encourage and promote concrete work by all sectors of society to contribute to creating a safe, positive and loving environment where every child can fully develop.
The event is also an opportunity for parents to be more aware of their role and influence on their children's handling of conflict, thereby adjusting their words, attitudes and actions to contribute to fostering the future of children.
Participating in the seminar, with more than 20 years of experience in listening, receiving and debunking the confidants of children and adolescents, journalist Hoang Anh Tu expressed his view that in any era, whether in the past or today, conflicts in the family are similar.
From the perspective of the management agency, Khuat Van Quy - Deputy Director of the Department of Familial Affairs, Ministry of Culture, Sports and Tourism shared that as life develops more and more, conflicts will arise. Family members have equal rights and of course children have equal participation as parents. However, at present, many parents, especially those in remote areas, do not have access to parenting education.
Therefore, the Department of Familial Affairs, Ministry of Culture, Sports and Tourism has set targets on the number of parents who have access to information and parenting guidance, including documents guiding how to build a relationship with their children and how to talk to children.
In order to assist parents in educating their children and resolving conflicts in the family, the Department of Familial Affairs has implemented programmes such as Family System Education, which including sets of educational materials for children under 6 years of age, sets of criteria for family conduct, and research on children's education. In addition, the department is also cooperating with other agencies to implement child protection and parenting programmes.
TAG: