Numbers of COVID-19 cases still on the rise in Southeast Asia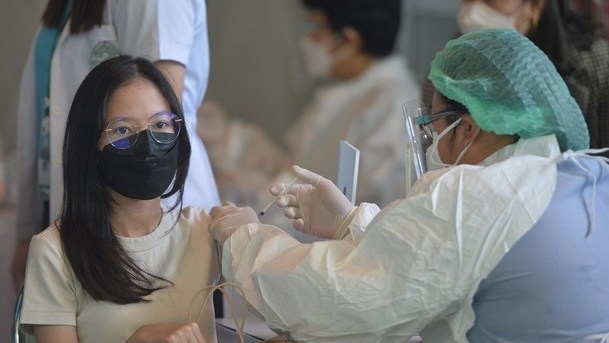 A woman is vaccinated against COVID-19 in Samutprakran province of Thailand on June 19 (Photo: Xinhua/VNA)   
NDO/VNA – Several countries in Southeast Asia continued to witness new records in the numbers of new COVID-19 cases and related deaths on July 10.
The Thai Ministry of Public Health on July 10 reported 91 deaths linked with COVID-19, the highest daily number of fatalities so far, surpassing the previous record of 75 documented on July 8.
It also announced 9,326 new infections, raising the tally in Thailand to 336,158, of whom 2,625 succumbed to the disease.
To curb the growth in infection cases within two to four weeks, the Thai Government is going to impose tougher measures, including a 9pm - 4am curfew, in Bangkok capital, five nearby provinces, and four others in the south from July 12.
Laos, a neighbour of Thailand, confirmed 93 new COVID-19 infections in 24 hours, including two domestic cases and 91 imported cases.
The Lao national steering committee for the pandemic fight said the complex COVID-19 situation in Thailand has caused job losses for many Lao people and forced them to return to the homeland. Many of the new infections contracted the Delta variant, leading to a surge in the number of cases, especially in border provinces.
The committee warned about a very high risk of virus community transmission if illegal entries occur.
So far, Laos has recorded 2,630 cases of COVID-19, including three deaths.
The Health Ministry of Malaysia said on July 10 that the country saw a new record in the 24-hour number of coronavirus infections, 9,353, raising the national count to 827,191. The last record, 9,180 cases, was logged on July 9.
The state of Selangor continued to account for the highest number of new cases in the country, 4,277, followed by Kuala Lumpur capital with 1,398 cases.
The same day, the Philippine Department of Health announced 5,675 new infections reported in 24 hours, bringing the tally to 1,467,119.
This archipelago nation also saw an additional 96 related deaths, raising the total fatalities to 25,816.
TAG: