Most of 598 new Covid-19 cases found in HCMC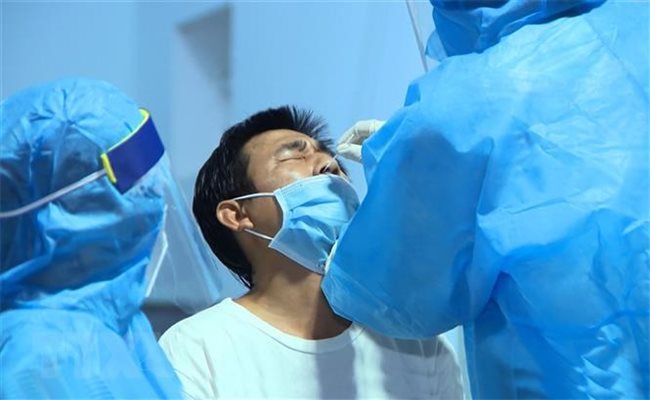 A medical worker swabs a man for Covid-19 testing. The Ministry of Health confirmed 598 additional Covid-19 infections this morning, July 10 – PHOTO: VNA
HCMC – The Ministry of Health confirmed 598 additional Covid-19 infections this morning, July 10, with 520 reported in HCMC, raising Vietnam's total infections to 26,608 to date.
Five of the fresh cases were imported ones in Quang Nam, Tay Ninh, and Hanoi, while 593 others came from domestic transmission. Aside from HCMC which accounted for the most, Dong Nai, Khanh Hoa, and Ba Ria-Vung Tau each reported over ten cases, while the rest were recorded in An Giang, Phu Yen, Binh Phuoc, Ben Tre, Hanoi, Thanh Hoa, and Tay Ninh.
Since the fourth coronavirus wave emerged on April 27, the country has reported 23,126 domestic infections.
In related news, Binh Phuoc Province will impose social distancing in Chon Thanh District in line with the prime minister's Directive 16 while some localities in this southern province such as Dong Xoai, Loc Ninh, Bu Gia Map, and Hon Quan will begin social distancing in line with the prime minister's Directive 15 starting from tomorrow, aimed at preventing the spread of Covid-19, the provincial government announced last night.
Also, all makeshift markets in the province were asked to suspend operations in 15 days starting tomorrow.
For Chon Thanh District, stern restriction rules ban physical interaction between families, while people from a commune shall not visit another commune, and isolation of wards and towns is also imposed.
Factories and manufacturing facilities are allowed to remain in operation but have to comply with anti-virus measures.
All residents must refrain from going out except for urgent purposes such as buying food, medicines and other necessities, for work at State-run agencies or diplomatic units, and for urgent cases such as emergencies, medical checkups, fires, natural disasters, funerals.
People must keep a safe distance of at least two meters away from others and avoid gatherings of over two people outside offices, schools, hospitals and in public places.
In addition, State-owned units or agencies must allow their employees to work from home, with a few exceptions such as those on duty or in special circumstances
Regarding Dong Xoai City and the districts of Loc Ninh, Bu Gia Map, and Hon Quan, non-essential services such as bars, clubs, karaoke and massage parlors, cinemas, internet and game shops, music performances, sports centers must shut down. Eateries and coffee shops are required to only offer take-away and delivery services.
The remaining localities in the province must suspend non-essential services.
TAG: