HCMC allows grocery stores to stay open during social distancing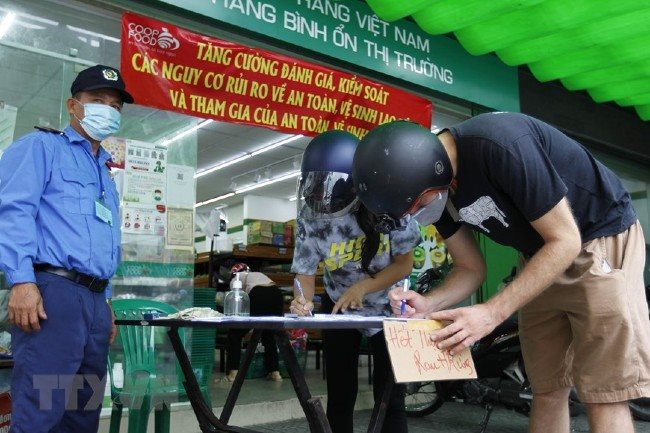 Two consumers fill in the health declaration forms before entering a convenience store in HCMC. Supermarkets, convenience stores and grocery stores in the city will remain operational during the 15-day citywide social distancing period - PHOTO: VNA
HCMC - HCMC is allowing grocery stores selling necessities to remain open, while dine-in and takeaway food and drink services, public transport and non-essential services have to suspend operations during the 15-day citywide social distancing period in line with the prime minister's Directive No. 16.
Addressing a meeting on July 8, HCMC vice chairman Duong Anh Duc said Directive No. 16 centers around social distancing and only allows essential services and manufacturing activities.
Duc said grocery stores offering necessities such as food and drinks are allowed to remain open, while those selling other products such as pans and pots have to close.
Supermarkets and convenience stores must remain operational to ensure a sufficient supply of necessities for citizens.
Wholesale markets and traditional markets will have to shut down if they fail to meet Covid-19 safety regulations.
Directive No. 16 also requires the suspension of public passenger transport services using autos and motorbikes and restrictions on the travel of residents, except for urgent or essential reasons.
Ride hailing and food delivery services have been suspended, while goods transport services are still available.
State-owned units or agencies must allow their employees to work from home, cancel non-essential meetings and conduct administrative procedures online.
Venues that offer free food for the poor can remain open but the givers and receivers have to strictly comply with Covid-19 infection prevention and control measures.
Regarding the national high school exam, Nguyen Van Hieu, deputy director of the HCMC Department of Education and Training, said the city took various measures to ensure safety for the students during the exam, which took place on July 7 and 8.
Prior to the exam, the Department of Education and Training collaborated with the Department of Health to conduct Covid-19 tests for the students and proctors. Those who tested positive for Covid-19 were not allowed to sit the exam.
HCMC vice chairman Duong Anh Duc stressed that during the 15-day social distancing period, people should only go out when it's really necessary such as to buy food, medicines and other necessities. Those going out for non-essential reasons will be subject to administrative sanctions.
Director of the HCMC Department of Transport Tran Quang Lam said the city has suspended public transport and inter-provincial coaches. Vehicles transporting workers and experts, goods and people to medical facilities are still operational.
Nguyen Nguyen Phuong, deputy director of the HCMC Department of Industry and Trade, said the city has closed down 148 traditional markets and three wholesale markets to curb the spread of the pandemic.
However, the city has increased the stock of goods by two or three times to ensure a sufficient supply of goods for citizens.
Besides, supermarkets and convenience stores have raised their capacity and extended the opening time to meet the high demand for necessities. Representatives of the Co.op Mart supermarket chain and the Bach Hoa Xanh convenience store chain said their revenues in recent days have surged by five times compared with ordinary days.
Therefore, residents should not rush to supermarkets to avoid panic buying and large gatherings, which may cause new Covid-19 infection clusters.
TAG: