Motorists from/to HCMC must show negative Covid-19 test result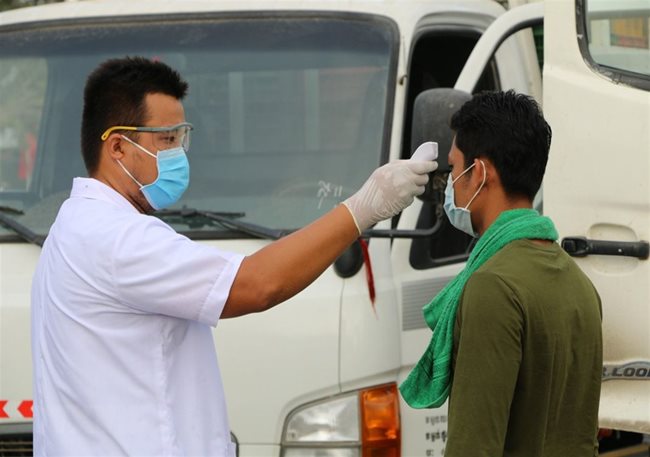 A medical worker checks the body temperature of a trucker at a coronavirus checkpoint. Motorists traveling from or to HCMC must show proof of negative Covid-19 test - PHOTO: VNA
HCMC - Motorists traveling from or to HCMC must show their negative Covid-19 test result as part of efforts to strengthen anti-Covid-19 measures and prevent the spread of Covid-19 in the city, according to a telegram issued by Minister of Transport Nguyen Van The on July 8.
All those on board the vehicles from/to the city must also produce proof of negative Covid-19 test, the local media reported.
Vehicles transporting people to hospitals or healthcare centers in emergencies are not subject to the order, but the drivers and conductors must comply with safety protocols.
Meanwhile, vehicles transporting goods, food, necessities, building materials, employees or experts that shuttle between HCMC and the nearby provinces and cities are allowed to operate, but must get approval from the governments of these provinces and cities, while the drivers and conductors are required to follow Covid-19 prevention and control measures and file daily health declarations.
The Ministry of Transport also told the Vietnam Directorate for Roads to work with the agencies and units under the Ministry of Public Security and the governments of HCMC and neighboring southern provinces to regulate traffic and tighten control over vehicles' entry into the city.
In addition, the heads of transport service firms, coach stations, train stations, ferry terminals and the airport and the owners of vehicles were asked to assume responsibility for the safety and compliance with anti-virus measures at their units.
TAG: