U.S. Embassy presents Covid-19 lab equipment to Defence Ministry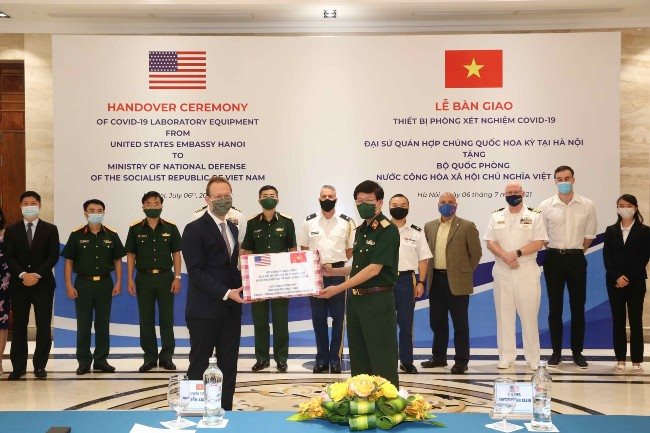 U.S. Charge d'Affaires Christopher Klein (L) and Major General Nguyen Xuan Kien at the handover ceremony on July 6 - PHOTO: MINISTRY OF NATIONAL DEFENSE
HCMC - The U.S. Embassy in Vietnam presented a polymerase chain reaction (PCR) machine and laboratory equipment to the Military Medical Department under the Vietnamese Ministry of National Defense on July 6 to assist the ministry in the fight against Covid-19.
Addressing the handover ceremony, Major General Nguyen Xuan Kien, Director of the Military Medicine Department, thanked the U.S. Embassy for the timely donation, which will contribute to addressing the Covid-19 testing overload in Vietnam and enhance the National Defense Ministry's capacity in Covid-19 response in the coming time.
U.S. Charge d'Affaires Christopher Klein spoke highly of the close cooperation between the two countries in combating the Covid-19 pandemic since it broke out early last year.
On behalf of the United States Government and the Department of Defense, he thanked the Vietnamese Government for supporting the U.S. during the toughest time when the country was hit hard by the pandemic last year.
Klein expected that the PCR machine and laboratory equipment provided by the U.S. will help strengthen Vietnam's pandemic response and allow the Military Medical Department to provide mobile testing capacity to the Vietnamese people.
The United States has also sent two million doses of the Moderna Covid-19 vaccine to Vietnam as part of its emergency public health assistance of 80 million doses to offer global support in the fight against Covid-19. The shipment of the doses is set to arrive in Vietnam this weekend.
TAG: