Strengthening COVID-19 prevention and control in export processing and industrial zones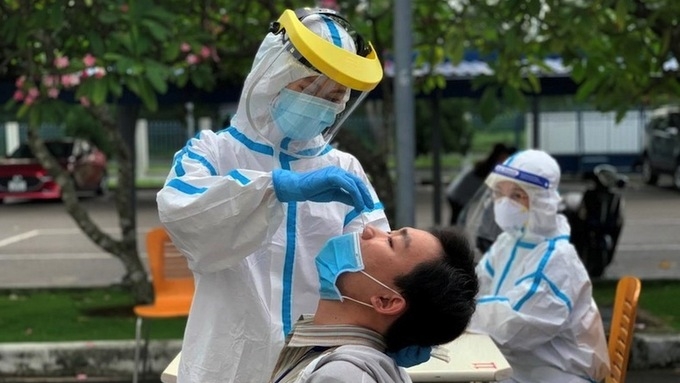 Medical staff in Ho Chi Minh City taking samples for COVID-19 testing. (Photo: VNA)   
NDO - The fourth outbreak of the COVID-19 pandemic has recorded many infections who were workers in export processing zones and industrial zones, making the epidemic situation even more complicated and unpredictable.
The reality showed that the Management Board of Ho Chi Minh City's Export Processing and Industrial Zones (Hepza) organised large-scale sampling for COVID-19 screening for thousands of workers in most export processing zones and industrial zones. Each enterprise has actively implemented epidemic prevention and occupational safety at factories and workshops according to the "5K message".
Many businesses, especially foreign-invested ones, with thousands of workers, have proactively "pushed" COVID-19 prevention and control to the highest level using various measures such as purchasing health check equipment; making regular medical declarations; organising and dividing the flow of workers and working shifts; distancing the working areas of workers and applying same in cafeteria areas.
Enterprises have also paid attention to ensuring the supply of safe food and essential necessities. The inspection and examination teams of the health sector, specialised management units and local authorities have regularly inspected premises to promptly detect and correct weaknesses and shortcomings in epidemic prevention and control.
In addition, the vaccination campaign against COVID-19 in export processing and industrial zones have been implemented proactively. As a result, around 320,000 workers have been vaccinated so far. Recently, realising the increase and rapid spread of infection, several businesses have built a scenario called "three on-the-spot activities", meaning that workers will work, sleep and live in the factories.
However, a problem that has worried many enterprises in export processing and industrial zones was the spread of a few initial cases detected at the factories, meaning later hundreds of infections (F0) and thousands of F1 cases (those who have had close contact with F0 or are suspected of being infected). Accordingly, the enterprises' epidemic prevention and control fell short.
The common point that has been made by many businesses, especially those with a large number of workers in export processing and industrial zones in Ho Chi Minh City, confused when implementing the "both production and anti-epidemic" plan, was their limitations in infrastructure only able to mert the requirements of production and business activities under normal conditions. The ability to assess the level of infection and the localisation and isolation plan of the local medical forces have not been prompt, making enterprises feel "exhausted" and confused.
Ho Chi Minh City is considered Vietnam's most dynamic and largest labour market with around 1.6 million workers and employees, of which 320,000 work in 17 export processing and industrial zones and a hi-tech park. Therefore, authorities at all levels, the City's Centre for Disease Control and local medical facilities need to develop a specific scenario to handle the increasing number of F0 and F1 cases while on-site facilities have not been enough for prompt and synchronous handling. The competent medical units need to conduct quick investigations of F0 cases in association with field assessment to come up with the fastest and most effective treatment plans. The tracking and return of test results for F1 and F2 cases should be implemented faster to limit the spread of the epidemic in a closed production environment.
More than ever, COVID-19 prevention and control in export processing and industrial zones must be carried out proactively and transparently with a high sense of responsibility. It is crucial to establish strict and scientific preventive measures as well as create favourable conditions for enterprises to promptly make appropriate production plans, ensuring the highest levels of safety in terms of the health and occupational safety and hygiene of employees. Each factory and enterprise must be a "fortress" and each worker must be really a "soldier" on the front line against the epidemic in order to ensure safety in their houses, workplaces and residential areas.
Quy Hien
Translated by NDO
TAG: