PM wants no repeat of mass gatherings in HCMC amid Covid spread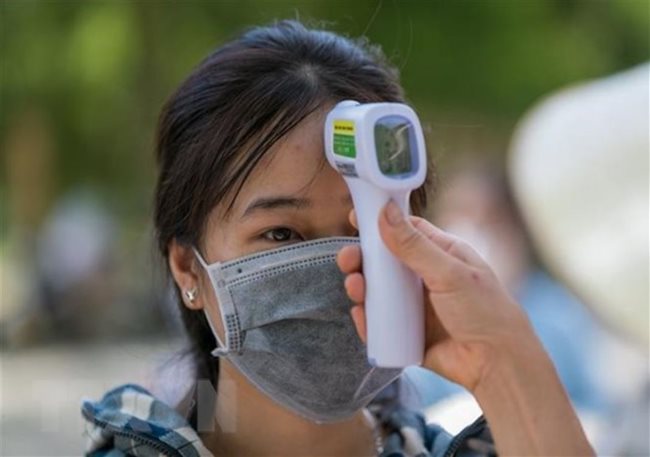 A woman has her body temperature checked. Prime Minister Pham Minh Chinh has issued an urgent telegram asking HCMC to adopt more aggressive measures to prevent the virus from spreading - PHOTO: VNA
HCMC - Prime Minister Pham Minh Chinh has issued an urgent telegram ordering HCMC to prevent mass gatherings from repeating as new chains of Covid-19 infection are still detected by the day.
In recent days, large crowds of people have been seen gathering at Covid testing sample collection and vaccination sites. Therefore, the prime minister told HCMC to enforce social distancing regulations, according to the telegram.
The HCMC government must call on residents to refrain from going out, restrict their travels and cooperate with the neighboring provinces to monitor workers at industrial parks and production facilities who shuttle between the city and nearby provinces.
The Government leader also urged the city to tighten control over drivers, vehicles and people that enter and exit the city to prevent the spread of the disease, while ensuring cargo transport and production remain unaffected.
Moreover, the prime minister asked the governments of other provinces and cities and ministries and departments to continue following the anti-virus directives of the Politburo, the Government, the prime minister and the national steering committee for Covid-19 infection prevention and control to fulfill the dual task of fighting the pandemic and ensuring socioeconomic growth.
The provinces and cities must take aggressive measures such as large-scale lockdowns, quarantine and contact tracing to stop the spread of the virus while ensuring sufficient supplies of goods and food for residents in areas on lockdown or at quarantine facilities.
The provincial and municipal governments must also regularly check compliance with Covid-19 safety regulations and impose harsh sanctions on violators, the local media reported.
The ministries of Health and Transport and other relevant ministries and departments were tasked with giving detailed guidelines to provinces and cities and helping them resolve issues.
TAG: