PM urges measures to both fight COVID-19 and realise dual goals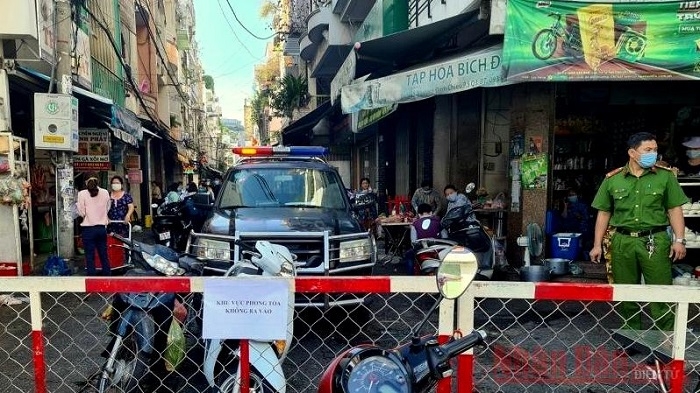 Functional forces blockade an alley in Ho Chi Minh City due to a suspected case of COVID-19. (Photo: NDO)   
NDO – The Prime Minister has issued an urgent telegraph on strengthening measures to prevent and control COVID-19 as well as realising the dual goals of both fighting against the pandemic while boosting socio-economic development.
> Prime Minister orders more drastic actions to fight COVID-19

> Hanoi tightens tracing and zoning off new outbreaks

> COVID-19: 277 new cases raise national tally to 22,341
In the face of the complicated COVID-19 situation in Ho Chi Minh City and its spread to a number of other localities, the PM urge strict implementation of solutions to prevent, detect, isolate and localise outbreaks, while providing active treatment for existing infections.
Special attention must be paid to applying social distancing orders while organising well the supply of food and necessities for people in lockdown areas.
Ho Chi Minh City was asked to adopt stronger, more decisive and radical measures in order to cut off the infection chains and control the outbreaks. Of which, special attention is to be given to absolutely not allowing mass gatherings, implementing social distancing and propagandising on the limitation of travel.
The city was also asked to control workers in its local industrial parks and business establishments with residency outside Ho Chi Minh City, as well as strictly control drivers in and out of the city in order to control the source of disease transmission, but not to obstruct the transport of goods or the maintenance of production and business activities.
Synchronous solutions were also urged, paying special attention to supporting the poor, people in difficult circumstances and self-employed workers having no savings or incomes affected by the epidemic.
According to the Ministry of Health, Vietnam recorded 400 new COVID-19 cases as of 12pm on July 7, of which 277 were found in quarantine sites or sealed off areas.
Among the infections, there were 347 in Ho Chi Minh City, 19 in Long An, 13 in Quang Ngai, six in Bac Ninh, four in Phu Yen, three each in Tra Vinh and Bac Giang, two in Nghe An, and one each in Ca Mau, Ba Ria-Vung Tau and Dak Lak.
As of July 7 noon, Vietnam had recorded 20,459 domestic cases and 1,882 imported. The number of infections since the fourth wave of outbreaks hit the country on April 27 amounts to 18,889.
The Sub-committee for Treatment under the National Committee for COVID-19 Prevention and Control also announced five COVID-19 deaths, four of them not suffering from underlying health issues. The latest deaths brings the national COVID-19 death toll to 102, with the ongoing fourth wave of COVID-19 infections since late April having resulted in 67 fatalities.
On the morning of July 7, the Department of Health of Ho Chi Minh City said that four field hospitals for COVID-19 treatment with a total scale of 12,000 beds have gone into operation, following response plans with scenarios of 10,000 and 15,000 infection cases in the city, besides 5,000 beds in converted hospitals specialising in receiving and treating COVID-19 patients.
Starting from July 6, Da Nang airport will arrange separated gateways for passengers from Hanoi, Ho Chi Minh City and the southern provinces to avoid transmission. The central coastal city will also apply mandatory medical isolation for 21 days for all cases coming to and returning to Da Nang from epidemic-hit localities.
The Ministry of Health on July 7 ordered that people from Ho Chi Minh City going to the remaining 62 provinces and cities across the nation must isolate at home for seven days after moving to that locality, followed by self-monitoring for the next seven days.
In addition to home isolation measures, people moving from Ho Chi Minh City to other provinces and cities must be tested three times - once each on the first day, the third day and the sixth day during the isolation period.
Quang Ngai province has decided to apply a strict social distancing order across the whole province, starting from 0:00 on July 8.
Dong Nai province has recorded 21 new COVID-19 cases, forcing the province to establish five medical isolation zones for epidemic prevention and control in Bien Hoa city. The lockdown order will last for 21 days, starting from 0:00 on July 6.
TAG: