Covid-19 testing fees different in different provinces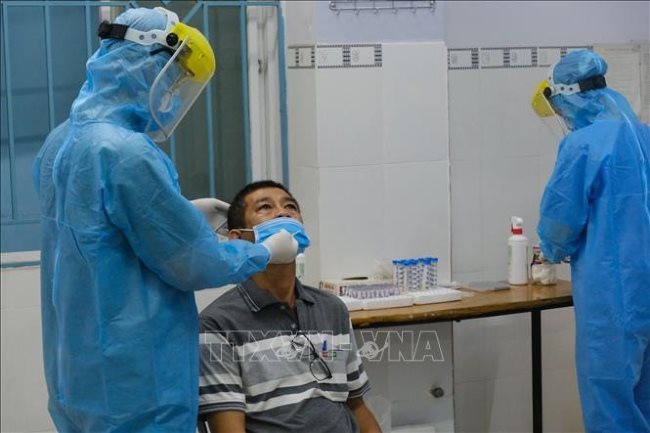 A medical worker takes samples from a man for Covid-19 tests in HCMC - PHOTO: VNA
HCMC – The southern cities and provinces are offering different prices for Covid-19 testing services, causing confusion among local residents.
Due to the raging Covid-19, some cities and provinces in southern Vietnam require incoming people to have a Covid-19 negative test certificate. This requirement has forced many people to rush to hospitals for Covid-19 testing, but the testing fees differ significantly among the southern provinces.
According to the Dong Nai Health Department, the province currently has three facilities accredited to conduct polymerase chain reaction (PCR) Covid-19 tests, namely the Dong Nai Center for Disease Control, the Dong Nai General Hospital and the Thong Nhat General Hospital. The PCR Covid-19 test fee is capped at VND734,000 per person.
The Thong Nhat General Hospital also offers door-to-door Covid-19 testing services for enterprises with fees ranging from VND600,000 to VND1.5 million per person depending on the distance between the hospital and the company.
The province also has 22 hospitals and medical centers that conduct rapid Covid-19 tests which produce results within four hours. The fees range from VND230,000 to VND400,000 per person.
In Binh Duong Province, the fees at the Thuan An Medical Center are VND1.8 million per person for PCR tests and VND450,000 per person for rapid tests.
The MEDI L.A.P Binh Duong Medical Center offers PCR tests at VND2 million per person and rapid tests at VND400,000 per person.
In Ba Ria-Vung Tau Province, the fee for rapid tests is VND238,000 per person at public health facilities such as the Ba Ria Hospital and the Le Loi Hospital.
Meanwhile, rapid test fees range from VND300,000 to VND380,000 per person at private clinics.
Tran Quoc Vuong, director of Asia Phu My General Clinic in Phu My Town, said, "Our clinic is offering rapid Covid-19 tests at VND340,000-380,000 per person. We will soon reduce the fee to VND238,000 per person as regulated by the Ministry of Health."
In Vinh Long Province, people can take rapid tests at Covid-19 checkpoints at VND238,000 per person. The test results will return within 40 minutes.
In HCMC, the Le Van Thinh Hospital offers rapid tests at VND350,000 per person and PCR tests at VND2.5 million per person. The fees at Gia An 115 Hospital are VND600,000 per person for rapid tests and VND1.8 million per person for PCR tests.
Dr. Nguyen Minh Quan, director of Thu Duc City Hospital, said the hospital conducted over 1,200 rapid Covid-19 tests on July 5 at VND350,000 per person.
Leaders of the Thu Duc City Hospital and Le Van Thinh Hospital said the Ministry of Health sets the fees at VND238,000 per person for rapid tests and VND734,000 per person for PCR tests at public medical facilities. However, private clinics and hospitals have to raise the fees to avoid losses.
On July 6, the HCMC Department of Health wrote to public and private hospitals and medical centers citywide asking them to offer PCR and rapid Covid-19 tests at the prices regulated by the Ministry of Health.
On the same day, chairwoman of Dong Nai Province Nguyen Thi Hoang asked the provincial Department of Health to work with relevant agencies to ensure that Covid-19 testing fees at hospitals, clinics and medical centers in the province are the same.
The Dong Nai Province Department of Labor, Invalids and Social Affairs is encouraging enterprises to provide financial support for Covid-19 testing for employees.
TAG: