More drastic measures needed to cope with COVID-19 in Ho Chi Minh City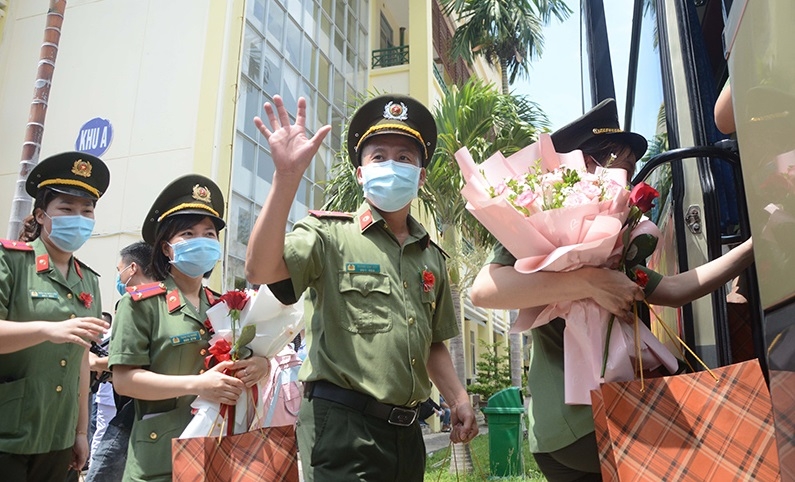 Doctors and nurses from Hospital 199 of the Ministry of Public Security (Da Nang City) set out to support Ho Chi Minh City to fight the epidemic. (Photo: VNA)   
NDO – With its number of COVID-19 cases exceeding 6,000, Ho Chi Minh City has become the locality with the highest number of cases in the country. With the active support of the National Steering Committee for COVID-19 Prevention and Control and the Ministry of Health, the city has also changed its anti-epidemic method in a faster and more drastic direction for more effective Covid-19 prevention and control during this decisive period.
According to Ho Chi Minh City's Centre for Disease Control, before the complicated development of the epidemic in investigation and tracing, the city will conduct identification of zoning areas within an hour or less once positive cases are confirmed.
Epidemiological investigators also conduct a quick investigation of the F0 case combined with a field assessment in order to establish a basis for zoning.
Ho Chi Minh City has set up an epidemic investigation and anti-epidemic intervention apparatus in the community. District health centres and health stations are in charge of organising a force to investigate, trace and take samples for testing.
These forces focus on their work, not concurrently taking on other tasks to ensure the completion of detailed and effective tracing work and quick and safe testing. On the basis of test results, blockades will be applied or adjusted.
Ho Chi Minh City authorities have also established a centre to control and coordinate testing in the city. The city's sampling capacity is currently 1.4 million samples per day and testing capacity is 450,000 aggregate samples. Thanks to this centre, the distribution of samples to laboratories and the testing progress of the city has increased significantly.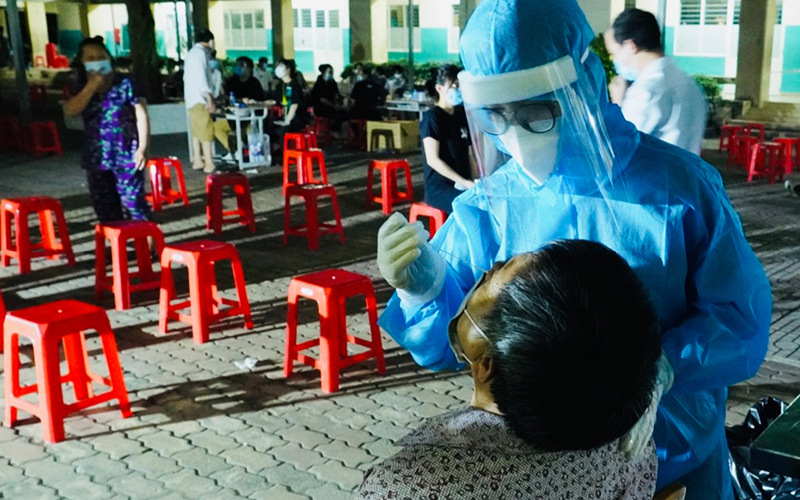 Volunteer students from Hai Duong Medical Technology University take samples for testing at Binh Loi Trung Secondary School, Binh Thanh District. (Photo: NDO/Manh Hao)
On the morning of July 5, Deputy Prime Minister Vu Duc Dam, Head of the National Steering Committee for COVID-19 Prevention and Control chaired a virtual meeting with leaders of Ho Chi Minh City to implement solutions to prevent and control the disease. The meeting was attended by Politburo member and Secretary of the Ho Chi Minh City Party Committee Nguyen Van Nen and leaders of departments, branches and localities in the city.
At the meeting, leaders of the municipal People's Committee agreed to strictly control people coming in and going out of the city, while at the same time ensuring that goods can circulate without being congested. At the same time, it is recommended that people who really need to come in or go out of the city must follow the regulations of the Ministry of Health.
It is known that, in terms of technology, all citizens in the city have been given QR codes through health declaration applications such as Bluezone, NCOVI, thus when going through control points, people only need to scan their code.
The Ministry of Information and Communications and the Ministry of Health will soon integrate its test and vaccine results into personal QR codes. All people wishing to go in and out of Ho Chi Minh City are required to make a medical declaration and perform a full test. In relation to foreign workers, Ho Chi Minh City will have specific agreements with neighbouring provinces.
Deputy PM Vu Duc Dam also asked Ho Chi Minh City to combine testing technologies and information technology applications to speed up testing in a practical and effective manner.
TAG: